Pastor Maldonado plays down PDVSA Williams investigation into funding
| | |
| --- | --- |
| By Simon Strang and Jonathan Noble | Thursday, November 24th 2011, 20:17 GMT |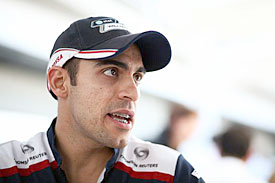 Pastor Maldonado is convinced he will be on the Formula 1 grid with Williams in 2012 after playing down speculation that the team's sponsorship deal with Venezuelan oil company PDVSA could be in doubt.
The 26-year-old rookie driver described himself as 'very confident' of his position within Williams, despite Venezuelan congressman Carlos Ramos asking Williams to provide details of the deal for an investigation by congress.
"I don't know exactly what is happening but I don't worry about it," Maldonado said on the eve of the Brazilian Grand Prix.
"I'm doing well, I'm doing my job, the best I can and I feel a lot of confidence from the country, from the sponsor and from the team. So I am really happy to be here and I would like to continue for sure.
"It is difficult to explain because Venezuela is like that. It is kind of a political situation because next year we will have the elections so everything is now tense. But I don't care about that you know, I am doing my best, I am always a good representative of Venezuela so I don't care."
Asked if he believed everything about the PDVSA's agreement with Williams was in good order, Maldonado replied: "Yeah for sure. I don't know exactly what the contract is and what is the deal with Williams, but I think it is really a responsible and big company, very serious, and I believe they do everything in the correct way.
"This is a big project, not only to have Pastor Maldonado in F1, but to promote the country to improve all the similar sporting situations.
"In Venezuela we are living through a great period in our sport, we have one of the best baseball teams in the world, we have many things... So the government is pushing hard to improve sport in the country at this moment."
Maldonado said that while his position was secure with Williams for 2012, it was imperative that he improved on the single point scored so far in his rookie season in order to cement his long-term future in the sport.
"That is so important to have great results and a great championship," he said. "I don't feel under pressure because I can do very well. I think we were pushing so hard this year to improve the car, but we didn't develop 100% the blown diffuser - our car is not so far away with that.
"Next year everything with the aero will change so I'm confident for that. Williams has always built great cars so I am very confident with that in mind.
"From some months ago we started with next year's car. I got very involved and I am very happy to work with the team to develop the new car and the car looks pretty good. It looks much better than this year's car and everyone in the team is pretty confident for that car."