Daniel Abt tops second day of Valencia GP3 test for ART
| | |
| --- | --- |
| | Thursday, November 24th 2011, 16:14 GMT |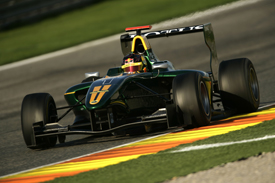 Daniel Abt continued his fine form as the ART driver ended the Valencia GP3 test on top of the timesheets.
The 18-year-old German, who competed in the F3 Euro Series this year, set the pace in 1m26.147s during the morning session, a time good enough to knock Manor driver Matias Laine off the top spot by just 0.075s.
Marlon Stockinger put his Status car third, ahead of Jenzer's Patric Niederhauser and Atech CRS driver Tamas Pal Kiss, a race-winner in GP3 with Tech 1 this year.
James Calado, who finished second in this year's championship, but is moving up to GP2 with ART in 2012, drove for the squad and was sixth quickest.
Conor Daly headed the afternoon times for Carlin, but with track conditions being less conducive to quick laps and most teams turning their attentions to race simulations, this failed to help him improve on his seventh place overall.
Maxim Zimin (MW Arden), Michael Heche (Jenzer) and Aaron Vainio (ART) completed the top 10, while British drivers Will Stevens and Tom Blomqvist were 14th and 15th for the MW Arden and Carlin squads respectively.
Japanese F3 champion Yuhi Sekiguchi crashed his RSC Mucke car during the morning session and was unable to get out during the afternoon.
Day Two times:
Pos  Driver               Team                  Time        Gap
 1.  Daniel Abt           ART                   1m26.147s
 2.  Matias Laine         Manor                 1m26.222s   + 0.075s
 3.  Marlon Stockinger    Status                1m26.407s   + 0.260s
 4.  Patric Niederhauser  Jenzer                1m26.448s   + 0.301s
 5.  Tamas Pal Kiss       Atech CRS             1m26.453s   + 0.306s
 6.  James Calado         ART                   1m26.564s   + 0.417s
 7.  Conor Daly           Carlin                1m26.677s   + 0.530s
 8.  Maxim Zimin          MW Arden              1m26.745s   + 0.598s
 9.  Michael Heche        Jenzer                1m26.815s   + 0.668s
10.  Aaro Vainio          ART                   1m26.820s   + 0.673s
11.  Robert Visoiu        Jenzer                1m26.845s   + 0.698s
12.  Tio Ellinas          Manor                 1m26.867s   + 0.720s
13.  Gabby Chaves         Status                1m26.891s   + 0.744s
14.  Will Stevens         MW Arden              1m26.905s   + 0.758s
15.  Tom Blomqvist        Carlin                1m27.212s   + 1.065s
16.  Lorenzo Camplese     Tech 1                1m27.504s   + 1.357s
17.  Fabio Gamberini      MW Arden              1m27.649s   + 1.502s
18.  Alex Fontana         Tech 1                1m27.796s   + 1.649s
19.  Pascal Wehrlein      RSC Mucke             1m28.038s   + 1.891s
20.  Dmitry Suranovich    Addax                 1m28.393s   + 2.246s
21.  Yuri Grigorenko      Manor                 1m28.443s   + 2.296s
22.  Ethan Ringel         Atech CRS             1m28.669s   + 2.522s
23.  Picho Toledano       Tech 1                1m29.171s   + 3.024s
24.  Michela Cerruti      Addax                 1m29.698s   + 3.551s
25.  Kotaro Sakurai       Status                1m29.721s   + 3.574s
26.  Yuhi Sekiguchi       RSC Mucke             1m29.943s   + 3.796s