Renault not put off radical designs by failure of 2011 exhaust concept
| | |
| --- | --- |
| By Matt Beer | Monday, November 21st 2011, 14:03 GMT |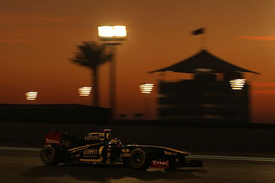 The failure of Renault's radical forward exhaust system this year will not deter it from trying bold engineering concepts next season, insists team boss Eric Boullier.
The Enstone squad - which becomes Lotus for 2012 - has admitted that its unique exhaust has ended up spoiling its 2011 campaign.
But asked in an interview with the official Formula 1 website whether that meant he was ordering his design team to be more 'conventional' in 2012, Boullier replied: "No, that would be a mistake. Probably not that extreme - but definitely not conservative! I want to keep the rivalry within my engineering group, but probably with more control."
Boullier is adamant that even though 2011 has ended up being a disappointing season, there was plenty the team could learn from its experience with the exhaust system gamble.
"We've learnt from our mistakes," he said. "We had some reasons to go innovative. Actually I took the risk, as I backed [technical director] James [Allison] when he offered me this solution.
"The team was in a process of transformation and the objective for [owner] Genii was to be world champions, but not just world champions for one year but as an established top team. It took Red Bull five years to be at the very top. Part of the game is that when you restructure a team internally you have to stimulate the creativity of your people - and this year was the right time to try something different.
"We understand that we have to be very careful about all the regulation changes and all the processes involved in it. We've based our concept on one blowing system, which meant that when we had to rethink it before Silverstone we lost eight weeks. We had to balance that. We probably took the innovation too far and that is why we are paying the price now. But what we have achieved internally is good. The experience - well, the bad experience actually - means that we've gained. It will be a benefit in the future."
He felt the risk of going with a radical car early in the team's new ownership era was worth taking.
"We have taken over a team with excellent people," said Boullier. "Sometimes, though, if people work together for too long their creativity drifts off.
"So when you want to shake that up again it also means that you have to give them some freedom to do what they want and take some risks. It either works or it doesn't work! For us it worked at the beginning but then we faced some other problems. Overall, though, it was a good experience."
Boullier added that he was sure the car would have proved more competitive regardless of the exhaust system if lead driver Robert Kubica had not been ruled out by his winter rally crash.
"I think that without the loss of Robert the situation would be very different," he said.
Kubica's situation currently remains uncertain as his recovery continues, meaning Renault's driver plans for 2012 are in a state of flux, with current race drivers Vitaly Petrov and Bruno Senna, plus reserve Romain Grosjean, waiting to hear the team's plans.
Boullier said he was not too concerned about the driver situation for 2012, as his focus was on securing top-line names for future years when he hopes his team will be back to title-challenging form.
"In the short term - in the next two to three years - I want two big names," he said. "I want to fight with the big names and to fight with [Sebastian] Vettel and [Mark] Webber, [Lewis] Hamilton and [Jenson] Button. So yes, I need two big names and the target is to have two big names by 2014 or even 2013.
"2012 we know will be another year for rebuilding the team and so we are not in the position to attract big names now. And by the way, the driver market is closed anyway for 2012 so our priority is not to have a big name in the car but to have a fast car which can then be given to a big name to win races.
"We should do it in this order and not the other way around - even though I would agree that a big name would help to make the car better, definitely."