Rob Huff fastest in second Macau World Touring Car practice, Fredy Barth has big crash
| | |
| --- | --- |
| By Jonathan Noble | Friday, November 18th 2011, 05:06 GMT |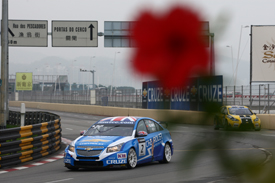 Rob Huff maintained Chevrolet's dominance of the World Touring Car Championship season finale in Macau by setting the fastest time in second practice on Friday, but the session was red-flagged after a fiery accident involving Fredy Barth.
As Huff edged out team-mates Alain Menu and Yvan Muller - with the trio separated by 0.129 seconds - the running had to be stopped when Barth crashed heavily at Faraway shortly before the scheduled end of the session.
Barth slid into the barriers violently, damaging the front of his SUNRED SEAT, before coming to a rest in the middle of the track.
But, after the car stopped, its front end caught on fire - with Barth remaining in his car before marshals extinguished the blaze and pulled him clear.
Barth, who was conscious and seen sitting at the side of the track, was taken by ambulance to the local hospital for checks over the risk of smoke inhalation.
Behind the leading trio of Chevrolets, Tiago Monteiro was fourth quickest in his SEAT - albeit it more than two seconds adrift of Muller.
The only other major incident in the session was when Javier Villa crashed at Paiol and damaged the right hand side of his Proteam BMW.
Pos  Driver             Team/Car          Time       Gap
 1.  Rob Huff           Chevrolet         2m32.268s
 2.  Alain Menu         Chevrolet         2m32.300s  + 0.032s
 3.  Yvan Muller        Chevrolet         2m32.397s  + 0.129s
 4.  Tiago Monteiro     SUNRED SEAT       2m34.430s  + 2.162s
 5.  Darryl O'Young     Bamboo Chevrolet  2m34.835s  + 2.567s
 6.  Gabriele Tarquini  SUNRED SEAT       2m35.113s  + 2.845s
 7.  Mehdi Bennani      Proteam BMW       2m35.391s  + 3.123s
 8.  Andre Couto        SUNRED SEAT       2m35.406s  + 3.138s
 9.  Tom Coronel        ROAL BMW          2m35.742s  + 3.474s
10.  Norbert Michelisz  Zengo BMW         2m35.926s  + 3.658s
11.  Franz Engstler     Engstler BMW      2m36.007s  + 3.739s
12.  Michel Nykjaer     SUNRED SEAT       2m36.008s  + 3.740s
13.  Fredy Barth        SUNRED SEAT       2m36.192s  + 3.924s
14.  Javier Villa       Proteam BMW       2m36.921s  + 4.653s
15.  Kristian Poulsen   Engstler BMW      2m37.061s  + 4.793s
16.  Aleksei Dudukalo   SUNRED SEAT       2m37.683s  + 5.415s
17.  Pepe Oriola        SUNRED SEAT       2m38.878s  + 6.610s
18.  Charles Ng         Engstler BMW      2m41.914s  + 9.646s
19.  Robert Dahlgren    Polestar Volvo    2m42.336s  + 10.068s
20.  Joseph Merszei     Engstler BMW      2m42.728s  + 10.460s
21.  Gary Kwok          Wiechers BMW      2m46.365s  + 14.097s
22.  Mak Ka Lok         RPM BMW           2m48.764s  + 16.496s
23.  Filipe de Souza    Corsa Chevrolet   2m50.012s  + 17.744s
24.  Philip Ma          Proteam BMW       2m52.596s  + 20.328s
25.  Kuok Io Keong      Corsa Chevrolet   3m41.583s  + 1m09.315s