Carl Edwards feels he now has everything he needs to become NASCAR champion
| | |
| --- | --- |
| By Diego Mejia | Friday, November 18th 2011, 02:37 GMT |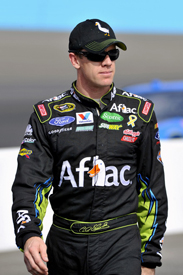 Carl Edwards says he feels ready to become a NASCAR Sprint Cup Series champion at Homestead on Sunday and does not believe his experience deficit relative to title rival Tony Stewart is crucial heading into the season finale.
Roush Fenway racer Edwards has led the drivers' standings for the majority of the season, including six of the last nine weeks of the Chase. Although he has only won once during the season he has remained the most consistent throughout the year, resulting in his best shot ever at winning a Cup title.
A former Nationwide Series champion, Edwards believes he is in position to win the Cup title next weekend and does not see how Stewart's previous two titles can make him any stronger on the track.
"I don't know any part of that trophy that makes the car go any faster this Sunday," said Edwards. "To me it's about going and performing this Sunday and we'll just see what happens. When this thing is over, it's like Tony said: Whoever wins the other guy is going to be the first to go up and shake his hand and say good job.
"It doesn't mean we're happy about it but we're going to see what happens on Sunday. I feel good about it."
Although Stewart would have to win Sunday's race to guarantee the championship regardless of where Edwards finishes, the Roush Fenway racer says he will race for victory at Homestead as he expects Stewart to do exactly the same. He believes the title may end up being decided by either of them winning the finale.
"It's pretty simple," said Edwards. "It is three points so unless I am two positions behind him, we have to go out and beat him. To me, what I am going to do is go in that race and race as hard as I possibly can and if at the end it is close and I know I can make something happen then I will make something happen.
"Otherwise I am going to race as hard as I can and it doesn't do me any good to pay attention to anyone else."
Edwards has twice been in close contention for the Cup title but ended up losing to Stewart in 2005 and then in '08 to outgoing champion Jimmie Johnson. He says the experience of having lost twice has prepared him to grab this opportunity with both hands.
"I feel like I have been through all of it," Edwards said. "I have lost the championship two different times. In 2005 if I could go back again I feel like I would have won. Same with 2008. I have seen how to lose them and now all that is left is go out here and apply those things and hopefully it is enough. I feel like those things are money in the bank."
If Edwards goes on to win the title but does not win the season finale, he would be the first driver in the Chase's history to become champion without winning during the play-off.