Alain Menu leads damp opening World Touring Car practice in Macau
| | |
| --- | --- |
| By Jonathan Noble | Friday, November 18th 2011, 01:22 GMT |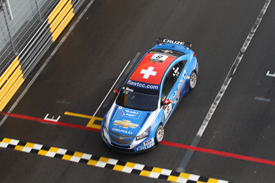 Alain Menu led the way during first practice for the World Touring Car Championship season finale in Macau on Friday, but tricky weather conditions meant drivers were adopting a cautious approach.
The Swiss driver swapped the top spot on the timesheets with Chevrolet team-mates Rob Huff and Yvan Muller for much of the 30-minute session, as the drying track meant lap times improved throughout.
Although a dry line did appear in the closing minutes of practice, it was not quite dry enough for anyone to try slicks - but second practice will almost certainly be dry enough for that.
Menu's best lap came right at the end of the session, as he headed Muller and Huff - with the trio being separated by less than 0.5 seconds.
Tiago Monteiro ended the session with the fourth best time, ahead of fellow SEAT drivers Fredy Barth and Gabriele Tarquini.
Despite the tricky track conditions, the session passed with relatively few incidents. Kristian Poulsen in the Engstler BMW ran off the track, after he took to the escape road at Moorish Hill. He was able to rejoin the action.
Filipe de Souza in the Corsa Motorsport Chevrolet Lacetti brushed the barriers at Mandarin and left debris on the track, while Tom Coronel was forced to pit after hitting the barriers at R Bend late on.
Pos  Driver             Team/Car          Time       Gap
 1.  Alain Menu         Chevrolet         2m44.858s
 2.  Yvan Muller        Chevrolet         2m45.102s  + 0.244s
 3.  Rob Huff           Chevrolet         2m45.349s  + 0.491s
 4.  Tiago Monteiro     SUNRED SEAT       2m47.422s  + 2.564s
 5.  Fredy Barth        SUNRED SEAT       2m47.465s  + 2.607s
 6.  Gabriele Tarquini  SUNRED SEAT       2m47.682s  + 2.824s
 7.  Mehdi Bennani      Proteam BMW       2m48.572s  + 3.714s
 8.  Darryl O'Young     Bamboo Chevrolet  2m48.626s  + 3.768s
 9.  Franz Engstler     Engstler BMW      2m49.210s  + 4.352s
10.  Pepe Oriola        SUNRED SEAT       2m49.295s  + 4.437s
11.  Tom Coronel        ROAL BMW          2m49.821s  + 4.963s
12.  Norbert Michelisz  Zengo BMW         2m50.133s  + 5.275s
13.  Javier Villa       Proteam BMW       2m51.444s  + 6.586s
14.  Kristian Poulsen   Engstler BMW      2m51.615s  + 6.757s
15.  Robert Dahlgren    Polestar Volvo    2m51.741s  + 6.883s
16.  Andre Couto        SUNRED SEAT       2m52.355s  + 7.497s
17.  Michel Nykjaer     SUNRED SEAT       2m54.184s  + 9.326s
18.  Aleksei Dudukalo   SUNRED SEAT       2m55.035s  + 10.177s
19.  Filipe de Souza    Corsa Chevrolet   2m59.992s  + 15.134s
20.  Joseph Merszei     Engstler BMW      3m00.411s  + 15.553s
21.  Charles Ng         Engstler BMW      3m02.630s  + 17.772s
22.  Gary Kwok          Wiechers BMW      3m06.296s  + 21.438s
23.  Mak Ka Lok         RPM BMW           3m07.204s  + 22.346s
24.  Philip Ma          Proteam BMW       3m08.443s  + 23.585s