Roberto Merhi handed another penalty in Macau
| | |
| --- | --- |
| By Jonathan Noble | Thursday, November 17th 2011, 11:55 GMT |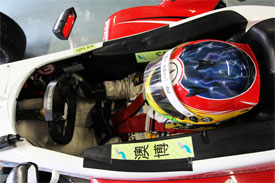 Roberto Merhi has been handed a further seven-place grid penalty for crashing into Felix Rosenqvist in first qualifying for the Macau Grand Prix.
After a day of drama for Merhi, who was more than 1.6 seconds quicker than his nearest rival in first qualifying but then crashed his car and was given a penalty for crossing the pit lane exit lane, the Spaniard is now facing a 10-place drop on Saturday.
He was given a three-place penalty for the pitlane line infringement, and the further seven-place punishment is because he was deemed to have 'caused a collision' when he crashed.
Merhi slid into the back of Rosenqvist in the wet conditions in first qualifying - with the pair being forced out on the stop.
Speaking about the accident, Merhi told AUTOSPORT: "I was going for a slipstream with [Richie] Stanaway, but I was really far away and he went to the right at the end of the straight.
"Rosenqvist was ahead of us and slow, and when I went to the left of Stanaway I find Rosenqvist in front. I hit the brakes and then my mechanic came on the radio and said 'yellow flag, brake!' I locked the tyres and hit Felix really hard.
"It was a shame. He is a really good guy and we are really good friends, so it is not nice when you crash with someone else, but especially with him. But I think it was not possible for me to do anything else, because you could not see anything as there was a lot of spray."