Johnny Cecotto Jr determined to carve a name for himself
| | |
| --- | --- |
| By Edd Straw | Wednesday, November 16th 2011, 16:36 GMT |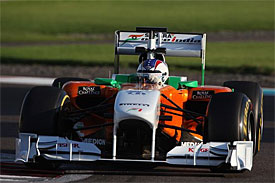 Johnny Cecotto Jr is determined to carve a name for himself in motor-racing after following his father into Formula 1 during today's rookie running in Abu Dhabi.
The 22-year-old, who had a disappointing year in GP2 this year, was delighted to step into an F1 car 27 years after his father's grand prix career was ended when he broke both legs in a qualifying crash at Brands Hatch.
But he admitted that he is keen to use the opportunity to establish his reputation as a driver in his own right rather than being compared to Cecotto Sr, a world champion in motorbike racing who went on to become an F1 racer for Theodore and Toleman and successful touring car driver.
"It's an an amazing feeling," Cecotto Jr told AUTOSPORT. "The last time my dad sat in an F1 car was in 1984 when he had that terrible accident, so to be here and to follow on from where he finished is amazing.
"It is difficult at the beginning when you start racing because everyone looks at you. You are learning while everyone who doesn't have a famous name has the chance to do two or three years without anybody knowing them. Then once they have matured and win a race, everyone says they are a new talent.
"From my first day, everyone is looking at me asking 'why is Cecotto having so many problems'. It's just the normal learning procedure.
"I want to make a name for myself. This year was a very unlucky season but now I'm P5 in F1. I'm really happy and think that it demonstrates that I have the speed to be a top racing driver."
Cecotto ended the day 2.685s off Jean-Eric Vergne's fastest time, but reckons that he could have set a much faster time.
His first attempt at a quick lap was interrupted by a red flag, while traffic held him up when he went out again.
"At the end of the day, I got one run with the super soft tyres to try and do a time," he said. "It was difficult because we went from testing with more fuel, to low fuel. And it was the only set of super softs I ran.
"On top of that, there was a red flag on the first lap and I had to come in. Then, on my second attempt, I had to overtake a car and they saw on the data that I lost about six tenths. I'm happy with the time that I did but it would have made it that little bit better."