Jan Charouz happy to complete superlicence distance with HRT
| | |
| --- | --- |
| By Edd Straw | Wednesday, November 16th 2011, 16:01 GMT |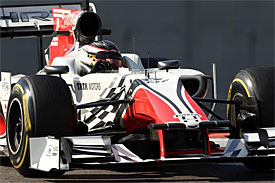 Jan Charouz is delighted that he has completed enough laps to qualify for a Formula 1 superlicence during his first day of testing in a contemporary grand prix car.
The 24-year-old Czech had tested a 2009 Renault in his regular role as one of the team's junior drivers.
He has set his sights on an F1 role next year now that he has completed the 300km qualifying distance behind the wheel of an HRT at Yas Marina.
"The aim of the test was to get enough miles for the superlicence and we accomplished that," he told AUTOSPORT.
"I don't know what I am doing next year yet. What I would like to do, ideally, is at least Friday practice sometime in the future. But until I get that chance, I don't know [what opportunities there are]."
Charouz will switch to driving the Renault tomorrow, with Nathanael Berthon, who briefly took to the track at the end of today, taking over HRT duties.
He is confident that his HRT experience will allow him to make the most of his day with Renault.
"Every kilometre you do in an F1 car gives you more confidence, especially for the quick stuff. The slow corners are the same in every car, but fast corners are where the biggest difference is.
"It was good to get used to the DRS because that's something I haven't done before. With KERS tomorrow, I have only one more step to take. If I jumped straight into it maybe it might be more difficult.
"I think the car is quite similar in behaviour to the GP2 car, but the steering is lighter. The car is good, but it could use some more development, especially on the rear, as after a couple of laps you start losing grip."