Stefano Coletti feels better prepared for final half day with Toro Rosso
| | |
| --- | --- |
| By Edd Straw | Wednesday, November 16th 2011, 07:39 GMT |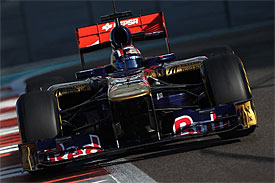 Stefano Coletti is confident of being better prepared for his final half-day of running with Scuderia Toro Rosso during the Abu Dhabi young driver test after sitting out today in favour of Kevin Ceccon.
Coletti, a race-winner in GP2 Asia in Abu Dhabi earlier this year, completed 87 laps yesterday, finishing the day 11th fastest. He will return to the cockpit tomorrow morning.
"My brain is going to work a lot," he said when asked by AUTOSPORT whether have a day off will help him. "I'm happy I'm not doing my half day on Wednesday because it's always good to have a break and then get back into the car. Then, when you do, everything gets easier.
"It's like when you go from Formula BMW to F3 or F3 to GP2, every time it's very hard physically and mentally because you learn a lot of new things. Then, on the second day, it's easy because when you go to sleep your brain works out everything."
Coletti added that he found the overall grip level of the car in the corners most impressive.
But after initially struggling to come to terms with the downforce levels, he was happy that he got on top of the car.
"It was impressive," said Coletti. "Not the speed in itself, because you don't really notice the straightline speed, but it's about the speed in the corners. It's unbelievable.
"At the start, you think that the car can't do it, but if you keep your foot down there is an amazing amount of downforce."
Coletti added that although he had no problems with his neck despite the high G-force, he did suffer from some back pain.
This was a result of the fracture in his back that he suffered in a GP2 accident at Spa in August.
"My neck had no problems," he said. "Actually, I was surprised by that but on this track there are not many high speed corners.
"My back still hurts a bit, but that was related to my accident."