Charles Pic 'crossing fingers' to be in Formula 1 in 2012
| | |
| --- | --- |
| By Edd Straw | Tuesday, November 15th 2011, 16:10 GMT |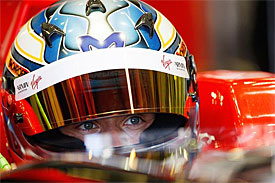 Charles Pic is hopeful of driving for Virgin Racing in Formula 1 despite refusing to confirm reports that he has agreed a deal with the team.
Pic is set to drive for Virgin next year, but insists that he will not allow such talk to distract him from his day-and-a-half of running with the team.
"I hope so," said Pic when asked by AUTOSPORT if he would race for Virgin next year. "I hope to be in Formula 1 next year and that is my objective.
"But for the moment, I'm really focused on this test because this is my job for tomorrow. After that, we will see.
"Of course, I am crossing my fingers and hope that I will be in F1 next year."
Pic returns for a full day with Virgin tomorrow and approached his first half-day in the car, during which he completed 30 laps and focused on acclimatisation, as preparation for that.
He is confident that he has adapted to grand prix machinery and is looking forward to Wednesday.
"The goal of this afternoon was to learn the car and also to improve my driving because there is a step between GP2 and F1," he said.
"Tomorrow, it will be a big day with tyre testing so many different tyres and I think it's a great opportunity for me to try to get further experience of these new sets and also to understand how they react.
"The first time I went out, the grid was really surprising. The second thing [I noticed] was all of the information and things that you have to do on one lap and still be focused.
"There were a lot of new things and new information to understand and to put into application. But it was a great feeling and a great experience."