Q & A with Red Bull's Helmut Marko
| | |
| --- | --- |
| By Gerhard Kuntschik | Tuesday, November 15th 2011, 10:49 GMT |
AUTOSPORT talks to Red Bull advisor Helmut Marko following the team's double championship success in 2011.
Q. What is the economic impact of two more world titles for RBR in 2011?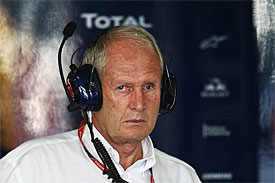 Helmut Marko: We increase our income from sponsors. The financial difference between first and second in the championship, this prize money from FOM, will completely be paid as bonus to all employees of the team. As last year, everyone gets his or her share, including the receptionist and the cleaning staff. Moreover, you have to consider the "political" impact because of our stronger position in any discussions with the FIA, FOM or FOTA. Basically you can say: the higher your success, the lower your expenses.
Q. How did the sponsor portfolio change?
HM: All sponsors that were here before raised their contributions. And we are happy to welcome new deals regularly, more and more approaches are made to us with a good part of them concluded.
Q. How does Red Bull Racing benefit from the contract extension with Renault and the partnership with Nissan and Infiniti?
HM: We reach the status of partner of Renault. This means we improve our financial situation and increase our influence. We reach priority.
Q. Red Bull Racing, however, was so far customer of Renault and had to pay for the engines?
HM: Yes. But the whole deal is very complex. From 2014 we will have a new engine formula. This needs an intensive exchange between the leading technicians on both sides. Our guys, lead by Adrian (Newey), will be involved in the construction of the 6-cylinder-turbo. After the recent Japanese GP Newey and some of his personnel were already visiting a plant of Nissan-Infiniti which specialises in battery technology and had excellent discussions with the Japanese experts.
Q. Will you offer a Red Bull-Infiniti road car to the public after the Vettel FX will be produced in a small series of 500 units?
HM: A Red Bull-Renault Clio will be on sale, but this is only a specially designed version without new technical features.
Q. Can you keep the important people in your team?
HM: People in all key positions are under contract until and through 2014. You know we rely on continuity, however we avoid running into a standstill. We will continuously optimise our staff.
Q. There were rumours you will extend Vettel's contract beyond 2014, possibly until 2016...
HM: We do not prefer extra long-time security and employment guarantees. We will have a look when it is necessary. The basis for Vettel to stay with us is to present a winning car to him. We cannot offer a glorious past in racing. Sebastian will drive where he gets the best possible package that creates the highest possibility of winning. Having said that, I can assure you that we will be in a strong position. Who except Ferrari has an engine deal in place for 2014 and beyond?
Q. Will Red Bull Racing be Renault's number one team?
HM: We have to wait for the current contract between Renault and Team Lotus-Renault to expire this year, after that all details will be made clear.
Q. Toro Rosso will have the intriguing problem of having four drivers for two seats in 2012. How will you solve this?
HM: We will look into Vergne's performance on Fridays and in the rookie test in Abu Dhabi. We also analyse the performance of Ricciardo in the HRT car and of Buemi and Alguersuari. You have to consider that all three who are currently race drivers improved a lot during the season and show a good performance curve. It's better for us to have four drivers for two cars than the other way round.
Q. Would it be possible to send one driver to another team again like this year with Ricciardo and HRT?
HM: The deal we made for Daniel with HRT was an excellent one and very efficient. That cost us not more than some drivers pay for a GP2 ride. Whether we continue this will only be decided after the season ended.
Q. RBR was continuously accused by other teams to break the RRA. Is this correct?
HM: No, because we abide by the agreement. We provided the consulting company that checked the situation with all data that we had to provide. However, they wanted to look further into details that were not part of the agreement and what we consequently refused. It is a fact that engine and KERS have to be counted separately. And how do you count people who work for gearbox and KERS of our customer Lotus (Caterham)? Who can say clearly who in Ferrari works for road car production or F1? How do you count the 400 staff at Mercedes performance engines?
Q. A personal question: Do you at age 68 consider retirement sooner or later? Will your future be in racing?
HM: Last year, after the disaster in the Korean GP that let all our chances in the title chase almost slip away, I was really devastated and considered retirement. Now let me put it this way: 2014 is a turning point, a threshold [currently all contracts with the team leaders and Vettel expire in 2014]. If I meet with personal friends or former school mates I realise that I have no interest whatsoever they are talking about...