Valtteri Bottas says he is not distracted by possibility of landing F1 race seat
| | |
| --- | --- |
| By Edd Straw | Tuesday, November 15th 2011, 08:41 GMT |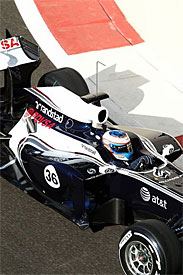 Valtteri Bottas insists that he will focus on doing the best job in testing for Williams and not be distracted by the possibility that he could put himself in contention for a Formula 1 race seat with the team during Abu Dhabi testing.
The GP3 champion is having his first serious test with Williams after previously conducting straightline work and AUTOSPORT understands that a strong performance could give him an outside chance of a race drive for 2012.
Bottas took to the track early in this morning's session and will drive during the first two days of the test before heading to Macau to compete in the Formula 3 Grand Prix.
"There are always rumours going on but I'm not going to think about that when I'm on track," he told AUTOSPORT. "I just want to do my best and help the test as best I can. Then we'll see what happens after. I don't know what the impact will be if I do well and I will not be thinking about that too much.
"I just need to focus on everything, work hard, describe everything to the engineers and follow the test programme."
Bottas has prepared for the test with simulator running at the Williams and is confident that he is as well-prepared for the test as he can be.
He is expecting to conduct an intense test programme, with most teams keen to gather as much meaningful test data as possible.
"There are only a few days available for young drivers now so you don't get many chances like this," he said. "It's a really important two days, but all I can do is my best. There's not any special mindset. I just need to work hard, describe everything to the engineers and follow the test programme.
It will be important to get up to a good speed quickly. It should not be a problem. I've spoken with the race drivers, I have experience in the simulator and I'm pretty comfortable. I can get to a good speed pretty quickly and we can start in the first day to do proper testing.
"I need to make sure that that laptimes are consistent - I just need to take everything out of every lap."