Tony Stewart thinks Jimmie Johnson's five-year NASCAR title streak will never be repeated
| | |
| --- | --- |
| By Diego Mejia | Monday, November 14th 2011, 17:07 GMT |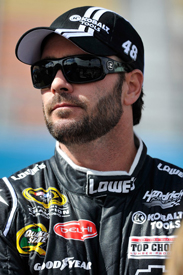 Tony Stewart thinks Jimmie Johnson's streak of five consecutive NASCAR Sprint Cup Series titles - which came to an end when Johnson was knocked out of the 2011 championship hunt at Phoenix on Sunday - is a feat that will never be achieved again.
Stewart and title rival Carl Edwards will head into next weekend's season finale at Homestead to decide who becomes Johnson's successor, after the Hendrick Motorsports driver's 14th-place finish yesterday put him mathematically out of contention for another title.
Following Sunday's race, Stewart paid tribute to Johnson's achievements over the past five seasons, suggesting that with the Cup series so competitive, he cannot envisage anyone ever maintaining such a long title-winning streak in the future.
Before Johnson's fourth title, the longest championship streak in NASCAR's top series had been achieved by Cale Yarborough between 1976 and '78.
"I don't see anybody doing it again," said Stewart, who was the last man to beat Johnson to a title in 2005.
"I think it's been absolutely remarkable to begin with for Jimmie to put five in a row together. I know this year hasn't ended up the way he's wanted by any means. I think he goes to Vegas and holds his head up high knowing what they've accomplished. The fact is that there's a real good possibility in the history of the sport for eternity that it could never happen again.
"The competition gets tighter and tighter, tougher and tougher. I just think it's amazing. You understand why people didn't want him to win a sixth one. At the same time, I've said it from day one, how do you knock down a guy that's going out and doing what he's supposed to do? If we could trade places with him, we'd do it in a heartbeat, go out and win five in a row.
"I think you've got to tip your hat to him. I think that's something in NASCAR history that I would put my money on that it will never happen again."
Next weekend Johnson will head to the Homestead decider without a fighting chance for the first time since 2003, in what has been his worst play-off thus far. He will enter the season-finale contending for third place in the standings and searching for his first win at one of the few tracks where he has yet to claim victory.
"I'm definitely disappointed that we won't be able to go to Homestead and race for our sixth [championship] but that's motorsports," said Johnson.
"It's a very tough business. What we did over the last five years was absolutely spectacular and I've just got to thank [sponsor] Lowe's, I've got to thank Hendrick Motorsports, Chad Knaus [crew chief], and this whole race team for giving me everything they've had these 10 years.
"Even though we're not in position to win the championship now, we're going to go to Homestead and try to have our best race down there that we can and finish as high as we can in the points."
He added: "I've been racing 30 years; shoot, 31 years and I've won probably two other big championship along the way. So, seven out of 31 years; this is normal. What we did over the last five years is abnormal. And then now we'll get a taste of normality."
While Stewart will be fighting for a third Cup title next weekend, Carl Edwards, a former Nationwide Series champion, will be seeking his first crown in NASCAR's main series.