Sam Hornish hopes Nationwide win revives NASCAR career
| | |
| --- | --- |
| By Diego Mejia | Sunday, November 13th 2011, 18:06 GMT |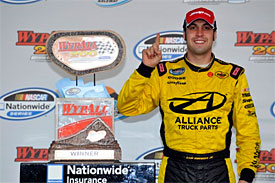 Sam Hornish Jr hopes his NASCAR career gets a new lease following his first win in the Nationwide Series on Saturday at Phoenix.
Nearly five years after making his NASCAR debut at the same venue, the three-time IndyCar champion claimed his maiden victory in the Nationwide Series, edging reigning series champion Brad Keselowski to a Penske one-two, in the first race ever held at the reconfigured Phoenix International Raceway.
Hornish has only run a partial Nationwide schedule this season after losing his drive in the Sprint Cup series at the end of last year, as his outfit downsized from three to two full-time cars for former champion Kurt Busch and Keselowski, both Chase contenders this season.
The former Indianapolis 500 winner hopes he is able to build on his first NASCAR win to make a full-time return to competition in 2012.
"I won so much over [in IndyCars] that I didn't know how much to appreciate it at the time," said Hornish following his first win in more than four years, having last won in IndyCar at Texas in June of 2007.
"I came over here and I wanted the challenge of racing these cars because it was the next step. It was something new, it was something that motivated me again.
"There was many times where I shook my head and go 'Why did I do this?' But I did know that I would always regret not trying it so I'm just really, really excited that we were able to keep going. It ranks right up there.
"My next goal is I want to run for a championship next year and get the funding to be able to do that and then obviously how to figure out how to win a Sprint Cup race."
Team owner Roger Penske was glad to see his driver back at the top and reminded that Hornish has been key to the success of his Cup outfit this year as he has been heavily involved with the team's testing programme, most recently running in a Goodyear test at Las Vegas last week, while also carrying on with the development of the new fuel injection system.
Penske said he plans to have Hornish run for the Nationwide Series title in 2012.
"Well, I feel for Sam. He's been real humble for the last 12-18 months, coming off being an Indy 500 winner, coming over here and aspirations to run up out front," Penske said.
"I think this sets up for what we want to do next year. Obviously our goal is to run for the championship in Nationwide with Sam next year. Alliance is our partner and Chad the crew chief and this is a great win for us
"I just want to thank Sam. I remember when we raced here when we went back in Indy and Sam whipped us here with that yellow Pennzoil car. I'll never forget that. This is a special place for us."
Hornish, one of IndyCar's most accomplished oval racers in recent history, said he was glad he kept his focus on NASCAR despite losing his Cup drive and running 141 races without a win, with only three top-five finishes to show before this weekend's victory.
A 19-time winner in IndyCar, the 32-year-old claims he never stopped believing he could win in NASCAR.
"I'm glad that I stuck it out," Hornish said. "This is what want. I came over here not because there was more money or anything like that. It was because I got an opportunity. I was interested in it, I got an opportunity to run some Nationwide races throughout 2007, and after doing that I got to see that there was something different out there to challenge me again.
"Was it the challenge I thought it was? Heck yeah it was. It was a big challenge for sure. I don't think I ever got to a point where I didn't feel like if I kept my head down and I put myself in the right position I was going to win."
Hornish achieved his maiden NASCAR win at the same track where he claimed his first IndyCar victory back in 2001. He also raced a Cup car for the first time at Phoenix in 2007.