Jari-Matti Latvala clinches Rally GB victory for Ford
| | |
| --- | --- |
| | Sunday, November 13th 2011, 12:49 GMT |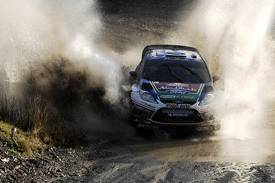 Jari-Matti Latvala finally took his first victory of the 2011 World Rally season in Great Britain, emerging as the last man standing at the end of a dramatic weekend in the Welsh forests.
The title fight was resolved early when Mikko Hirvonen retired his Ford on Friday after damaging the car's radiator in a spin. Up to then, the Finn and title rival Sebastien Loeb had been swapping the lead in an extremely tight battle, but Hirvonen's exit meant Loeb knew by Friday night that his eighth straight championship was in the bag.
Latvala then stepped up to challenge Loeb for the rest of the weekend, taking the lead on Saturday afternoon then finding himself with a huge advantage when a freak collision with a road car ended Loeb's rally this morning, eventually winning by nearly four minutes.
"It's a great feeling," said Latvala. "It's been a long time since I won - one and a half years. It's been a very stressful time and frustrating. This is a great, great way to finish the season."
Mads Ostberg ended the season on a high with second place after one of his most competitive drives of the year. The Stobart Ford driver got ahead of Petter Solberg when the Citroen sustained a puncture on Friday, and after a broken fuel pipe ended Solberg's rally on Saturday morning, Ostberg was free to cruise to the finish, surviving an engine scare along the way.
Ostberg's team-mate Henning Solberg secured his first podium finish in over two years with third place. Mini driver Kris Meeke had been closing rapidly today as he recovered from some early dramas, but a spin on the final stage stopped Meeke from claiming his first WRC podium and left Solberg safe in third.
Fourth was still a fine result for Mini on home ground. Dani Sordo had also been running in the top six in the sister car before crashing on Friday.
The rest of the top nine was filled with Ford privateers. Matthew Wilson stayed clear of impressive WRC debutant Ott Tanak - flying on DMACK's latest tyres - and Evgeny Novikov to take fifth at home. The other points went to Dennis Kuipers (FERM Ford), Ken Block (Monster Ford) and Armindo Araujo (Italia Mini).
Citroen's other works driver Sebastien Ogier barely featured in this rally, crashing on Thursday afternoon's opening Great Orme stage and spending the rest of the weekend a long way down the order running under superally rules.
Leading finishers after SS23:

Pos  Driver                Team/Car                    Time/Gap
 1.  Jari-Matti Latvala    Ford                      3h27m03.5s
 2.  Mads Ostberg          Stobart Ford               + 3m42.9s
 3.  Henning Solberg       Stobart Ford               + 7m05.1s
 4.  Kris Meeke            Mini                       + 7m12.3s
 5.  Matthew Wilson        Stobart Ford               + 8m57.3s
 6.  Ott Tanak             M-Sport Ford               + 9m27.1s
 7.  Evgeny Novikov        Abu Dhabi Ford             + 9m47.7s
 8.  Dennis Kuipers        FERM Ford                 + 10m12.7s
 9.  Ken Block             Monster Ford              + 16m01.2s
10.  Armindo Araujo        Italia Mini               + 17m01.6s

Other WRC finishers:

11.  Sebastien Ogier       Citroen                     17m47.8s
20.  Dani Sordo            Mini                      + 38m10.5s
22.  Martin Prokop         Czech Mini                + 39m43.2s
36.  Daniel Oliveira       Brazil Mini             + 1h09m25.0s

WRC retirements:

     Sebastien Loeb        Citroen                         SS19
     Kimi Raikkonen        Ice 1 Citroen                   SS13
     Mikko Hirvonen        Ford                             SS7
     Peter van Merksteijn  Van Merksteijn Citroen           SS5

Leading power stage results:

Pos  Driver                Team/Car                    Time/Gap
 1.  Sebastien Ogier       Citroen                      2m41.3s
 2.  Dani Sordo            Mini                          + 2.7s
 3.  Jari-Matti Latvala    Ford                          + 3.2s
 4.  Matthew Wilson        Stobart Ford                  + 4.0s
 5.  Ott Tanak             M-Sport Ford                  + 4.1s