Matt Kenseth takes NASCAR Sprint Cup pole at slick Phoenix
| | |
| --- | --- |
| By Diego Mejia | Saturday, November 12th 2011, 21:52 GMT |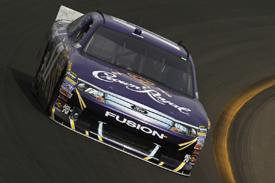 Matt Kenseth claimed pole position for the penultimate round of the Chase for the NASCAR Sprint Cup Series at Phoenix.
The Roush Fenway racer bumped fellow Ford driver AJ Allmendinger from pole with a lap of 26.260 seconds at an average speed of 137.101 mph, which gave him his seventh Cup career pole and his third of the year, more than he has ever achieved in a single season.
Kenseth's lap ended up splitting the main title contenders Tony Stewart and Carl Edwards onto separate rows. They had looked set to start right next to each other but ended up eighth and ninth respectively, the Stewart Haas racer having to take the first green flag on Sunday from the less favourable outside line.
Drivers struggled with loose cars and poor grip relative to Friday's practice sessions amid the hotter track conditions, but teams anticipate the track will continue to change as overnight rain is expected to take away some of the rubber that has already been laid on the new surface.
"Jimmy [Fennig, crew chief] had a strategy to go fast in the first practice to go out late," said Kenseth. "Even though we knew the temperature would be hotter he thought the track could be faster with more cars having run on it. A lot of people chose the opposite strategy and worked on race set-up in the first practice and did their qualifying stuff in the second practice to go out early.
"He had a plan and made the right adjustments. He thought it would be looser today. I didn't get all there was to get out of the car. It was just that good. They made all the right choices there."
Kenseth remains mathematically in the title hunt despite his 33-point deficit to Edwards, while Kevin Harvick, also still in contention, qualified 27th. Penske's Brad Keselowski was 12th fastest while four-time Phoenix winner Jimmie Johnson will start 16th.
Kyle Busch was 34th fastest but he will start from the rear of the field following an engine change during the first practice session on Friday. His Joe Gibbs Racing team-mate Denny Hamlin spun when starting his qualifying run and ended up 33rd on the grid.
Red Bull rookie Cole Whitt impressed on his first Cup outing, qualifying 19th, right behind team-mate Brian Vickers.
Scott Riggs, David Stremme and Andy Lally, who spun on his qualifying run while driving his back-up car, all failed to make the field.
Pos  Driver              Team/Car                     Time     Gap
 1.  Matt Kenseth        Roush Fenway Ford            26.258s
 2.  AJ Allmendinger     Petty Ford                   26.384s  + 0.126s
 3.  Marcos Ambrose      Petty Ford                   26.411s  + 0.153s
 4.  Mark Martin         Hendrick Chevrolet           26.455s  + 0.197s
 5.  Martin Truex Jr     Waltrip Toyota               26.455s  + 0.197s
 6.  Jamie McMurray      Earnhardt Ganassi Chevrolet  26.469s  + 0.211s
 7.  David Reutimann     Waltrip Toyota               26.473s  + 0.215s
 8.  Tony Stewart        Stewart Haas Chevrolet       26.488s  + 0.230s
 9.  Carl Edwards        Roush Fenway Ford            26.529s  + 0.271s
10.  Kasey Kahne         Red Bull Toyota              26.534s  + 0.276s
11.  Paul Menard         Childress Chevrolet          26.547s  + 0.289s
12.  Brad Keselowski     Penske Dodge                 26.585s  + 0.327s
13.  David Ragan         Roush Fenway Ford            26.588s  + 0.330s
14.  Jeff Burton         Childress Chevrolet          26.608s  + 0.350s
15.  Regan Smith         Furniture Row Chevrolet      26.613s  + 0.355s
16.  Jimmie Johnson      Hendrick Chevrolet           26.618s  + 0.360s
17.  Kurt Busch          Penske Dodge                 26.622s  + 0.364s
18.  Brian Vickers       Red Bull Toyota              26.624s  + 0.366s
19.  Cole Whitt          Red Bull Toyota              26.625s  + 0.367s
20.  Robby Gordon        Gordon Dodge                 26.630s  + 0.372s
21.  Landon Cassill      Phoenix Chevrolet            26.631s  + 0.373s
22.  Dale Earnhardt Jr   Hendrick Chevrolet           26.634s  + 0.376s
23.  Jeff Gordon         Hendrick Chevrolet           26.689s  + 0.431s
24.  Scott Speed         Whitney Ford                 26.694s  + 0.436s
25.  Joey Logano         Gibbs Toyota                 26.696s  + 0.438s
26.  Juan Pablo Montoya  Earnhardt Ganassi Chevrolet  26.704s  + 0.446s
27.  Kevin Harvick       Childress Chevrolet          26.715s  + 0.457s
28.  Clint Bowyer        Childress Chevrolet          26.751s  + 0.493s
29.  Greg Biffle         Roush Fenway Ford            26.756s  + 0.498s
30.  Ryan Newman         Stewart Haas Chevrolet       26.764s  + 0.506s
31.  Bobby Labonte       JTG Daugherty Toyota         26.793s  + 0.535s
32.  Joe Nemechek        NEMCO Toyota                 26.837s  + 0.579s
33.  Denny Hamlin        Gibbs Toyota                 26.850s  + 0.592s
34.  Kyle Busch          Gibbs Toyota                 26.936s  + 0.678s
35.  Michael McDowell    HP Toyota                    26.979s  + 0.721s
36.  Mike Skinner        Max Q Ford                   27.023s  + 0.765s
37.  Travis Kvapil       Front Row Ford               27.040s  + 0.782s
38.  Casey Mears         Germain Toyota               27.062s  + 0.804s
39.  Mike Bliss          FAS Lane Ford                27.184s  + 0.926s
40.  Geoffrey Bodine     Baldwin Chevrolet            27.417s  + 1.159s
41.  JJ Yeley            Front Row Ford               27.911s  + 1.653s
42.  David Gilliland     Front Row Ford               29.252s  + 2.994s
43.  Dave Blaney         Baldwin Chevrolet            27.157s  + 0.899s

Did not qualify:

     Scott Riggs         R3 Toyota                    27.336s  + 1.078s
     David Stremme       Inception Chevrolet          27.355s  + 1.097s
     Andy Lally          TRG Ford                     28.215s  + 1.957s