Romain Grosjean says he felt in much better shape on Renault return than he had in 2009
| | |
| --- | --- |
| By Edd Straw | Saturday, November 12th 2011, 10:29 GMT |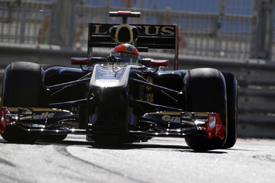 Romain Grosjean admits that he felt far more comfortable on his return to Formula 1 action in Abu Dhabi than he was when he raced at this level two years ago.
The Franco-Swiss, a contender for a race seat at Renault next year, believes that his performance during yesterday morning's free practice session proves that he is better equipped than he was previously. Grosjean had struggled when he contested seven late-2009 races for the team after Nelson Piquet was dropped.
"This time, it's different in that I've driven seven grands prix so I know what Formula 1 is," Grosjean said when by AUTOSPORT to compare the experiences. "I'm more aware of what's going on and what speed the car is able to do.
"You almost forget the sensation of driving an F1 car but it comes back quickly. It's difficult to explain what you feel - it's just amazing."
The GP2 champion completed 29 laps during the session, ending up 12th fastest, 2.422 seconds off the pace. He looked confident behind the wheel despite taking a cautious approach early in the session.
It was his first proper run in the Renault R31 having only previously sampled it in straightline testing.
"I was going step by step," said Grosjean. "At the beginning, I was being careful not to use too much DRS and seeing how everything works. It was my first time using the DRS and it has been a long time since I used KERS.
"The car gave me confidence so I could try different things and a more aggressive driving style. I felt much more comfortable as well, so I was pleased with that."
Grosjean also outpaced team-mate Vitaly Petrov by four tenths of a second, although a direct comparison of their fastest lap-time is not possible as they ran different programmes.
But Grosjean was happy to have a good time under his belt as he knows that the outing was a chance to impress Renault.
"Lap-time is always important because at the end of the day pole position is about the fastest lap-time," he said. "But that was not my aim. I wanted to take it steady, understand everything, give as much feedback to the team as I could and see what I could feel from my experience.
"This is a fantastic opportunity to drive and it's a test from the team. They want to see how I have improved and changed since last time. So there was a little bit of pressure."