Sebastien Loeb still keen to push for Rally GB win even though title is secure
| | |
| --- | --- |
| | Saturday, November 12th 2011, 08:08 GMT |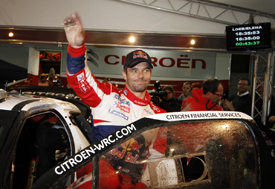 Sebastien Loeb says he is still keen to fight for Rally GB victory even though his eighth World Rally title was wrapped up last night when Mikko Hirvonen retired from the event.
Hirvonen had to try and overcome an eight-point deficit to Loeb in Wales, but damaged his Ford's radiator in a spin on SS7 yesterday morning while holding a narrow lead. Ford finally conceded on Friday evening that there was too much damage to Hirvonen's engine for him to contemplate rejoining under superally today, removing any final remote threat to Loeb's championship.
"For sure it's a strange situation to be here, out in the rain in the middle of a rally and to know that we have won the championship again," said Loeb on Friday night. "I can't believe it.
"Eight titles, it's a great moment. It's strange, normally when you win the title you can have a party but tonight it's not the case and tomorrow morning we'll set off very early. But still, it's a strange situation to win a championship in but we'll try to enjoy it.
"Even this morning, who could know - the battle was so hard, so close, Mikko was going so fast, that nothing was done. Even this morning I couldn't believe that I would be an eight-time world champion."
He said he would not put himself under any pressure to try and win the rally, with Ford's Jari-Matti Latvala starting Saturday's stages just one second behind him, but was keen to try and claim another victory if it was achievable.
"At the moment I'm really happy to have won the championship," said Loeb. "For sure now we'll have no pressure tomorrow, just driving for fun, so we will see.
"The priority was to win the championship. We came back from some bad rallies, so the target was to win the championship. We've done it now, and now the target is to win the rally. We will see, if it's possible then for sure we will fight for the victory."
Loeb's Citroen team boss Olivier Quesnel said he was relaxed about whether his world champion notched up another win or not.
"You can be sure that Seb will drive very fast, but we are not looking for the victory as a priority," said Quesnel.
He added that he was not surprised that Loeb and Hirvonen's intense lead fight had been shortlived.
"It was a big fight for a not very long time, because it lasted three or four stages," Quesnel said. "In the end, both drivers were so fast that I was pretty sure one would collapse, and I'm sorry for Mikko but it was him who collapsed so Loeb is now world champion for the eighth time.
"In the end this year was sometimes complicated, but we have 10 victories and there were 12 events, so I think this year was maybe one of the best for Citroen."