HRT aims to run 2012 car in first test
| | |
| --- | --- |
| | Friday, November 11th 2011, 19:09 GMT |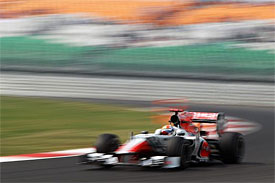 The HRT team says it is hoping to have its 2012 car ready for the first test of the pre-season next year.
The Spanish squad will enter its third Formula 1 season in 2012, having made its debut in 2010.
Both last year and this the team has been unable to test its new car before the first race of the year, but HRT's Saul Ruiz said on Friday in Abu Dhabi it is hoping the new car will be ready in time for the first group test in February.
He also said the team will move under one roof in a factory in Valencia, although the design office will still be in Munich.
"Our policy is to be very discreet in the things that we are doing so we are only announcing things that we have already been working on for some time and we reach a point where it is obvious that somebody will notice like we have a headquarters in Valencia so we have to tell," he said.
"One thing is we are moving the race and test team and most of the back office to be under the same roof to this very nice building that we will have in Valencia. The different thing is that the technical office, we will still keep it in Munich where the car is being designed and developed since the end of August.
"Also, different to last year we hope not only be at the first race but also the first test with the new car."