Q & A: Mikko Hirvonen on his Rally GB disaster
| | |
| --- | --- |
| By David Evans | Friday, November 11th 2011, 15:59 GMT |
Mikko Hirvonen's hopes on clinching a first World Rally title were hit hard when he retired from day one following the Dyfnant stage this morning.
AUTOSPORT caught up with the Finn when he returned to service in Builth Wells.
Q. What happened?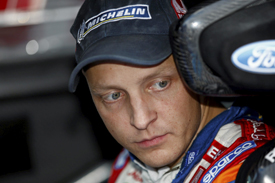 Mikko Hirvonen: It was a pretty typical Welsh-type accident. Eight out of 10 times in those situations... okay, for sure I would have spun and lost 10 seconds for that, but it was unlucky that there was some tree stump or stick or something that made a scratch on the radiator and we lost all the water.
Otherwise there's no damage at all on the car - the car's mint. When I spun, I got the car going again and I was back flat out again. For five or six kilometres it was fine, no problem. But then there was a problem.
Q. Why did it take so long for the problem to become apparent?
MH: The hole in the radiator was so small, it was taking such a long time for the water to come out of it.
Q. Then the warning lights came on?
MH: Then we hit the problems and, yes, the warning lights came on. When the oil temperature [warning light] came up, I thought about the spin and thought that maybe the front of the grill is full of mud and things like that.
So I stopped and went to have a look, but there was nothing except for this one corner [of the front of the car] which was covered in mud and had this one stick in it.
Q. What did you do?
MH: We finished the stage and then kept stopping and filling it with water to try and get here.
Q. Before that, it was going pretty well this morning...
MH: It was going well. You know, before the start of that last stage, I said to [co-driver Jarmo [Lehtinen]: 'This is okay, I don't think we're going too hard and we could even go on a bit more from here.' It's so frustrating.
Q. How do you feel?
MH: I've had a tough season. I don't know. Some how I feel I'm not surprised this happened to me, but I'm just so sorry for the boys and all of the team because even though this was a tough season, we worked so well together.
Jari-Matti [Latvala] helped me so much this year just to give us a chance to fight for this title. I'll survive, but like I say it's such a shame for the boys that it's ended like this.
Q. At least you went out fighting...
MH: We were fighting. For me, I lost this in the last two Tarmac rallies [Catalunya and France]. We have been consistent this season and the year hasn't been too bad. We'll be there again.