Peugeot dominates Intercontinental Le Mans Cup practice at Zhuhai
| | |
| --- | --- |
| | Friday, November 11th 2011, 11:56 GMT |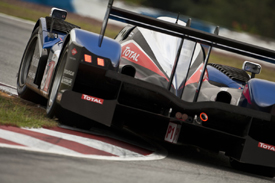 Peugeot was quickest in both Friday practice sessions ahead of the Intercontinental Le Mans Cup finale at Zhuhai in China.
Franck Montagny and Stephane Sarrazin led the way each time, followed by team-mates Sebastien Bourdais and Anthony Davidson.
The Audis were third and fourth, the Tom Kristensen/Allan McNish car ahead of the Timo Bernhard/Marcel Fassler entry in both sessions, although the lead Audi cut the gap to the front from 1.7 seconds in first practice to half a second later on.
Rebellion's Lola-Toyota was top petrol car in fifth.
BMW commanding the GTE-Pro class, with one-twos for Augusto Farfus/Jorg Muller and Andy Priaulx/Uwe Alzen in both sessions. The Stephane Ortelli and Frederic Makowiecki Luxury Ferrari was next up in the morning, before AF Corse's Giancarlo Fisichella and Gianmaria Bruni took that position in the second session, despite Fisichella spinning into the gravel and causing a red flag.
The AMG China Mercedes that features Mika Hakkinen in its driver line-up led the GTC class all day, beating many of the GTE cars in the afternoon.
Practice one:

Pos  Cl     Drivers                     Team/Car               Time
 1.  P1     Montagny/Sarrazin           Peugeot                1m21.999s
 2.  P1     Bourdais/Davidson           Peugeot                1m22.495s
 3.  P1     Kristensen/McNish           Audi                   1m23.608s
 4.  P1     Bernhard/Fassler            Audi                   1m24.312s
 5.  P1     Jani/Prost                  Rebellion Lola-Toyota  1m25.533s
 6.  P1     Lahaye/Moreau/Ragues        Oak Pescarolo-Judd     1m25.973s
 7.  P1     Meyrick/Mucke/Primat        AMR Lola Aston Martin  1m26.020s
 8.  P1     Nicolet/Premat/Pla          Oak Pescarolo-Judd     1m26.324s
 9.  P2     Mailleux/Ordonez/Vernay     Signatech -Nissan      1m30.309s
10.  P2     Lafargue/da Rocha           Oak Pescarolo-Judd     1m32.820s
11.  P1     Shogo/Naoki                 Tokai Courage-ORECA    1m34.042s
12.  GTE P  Farfus/Muller               BMW                    1m34.680s
13.  GTE P  Priaulx/Alzen               BMW                    1m35.108s
14.  GTE P  Ortelli/Makowiecki          Luxury Ferrari         1m35.519s
15.  GTE A  Krohn/Jonsson/Rugolo        Krohn Ferrari          1m35.736s
16.  FLM    Chen/Shanqi                 PTRS FLM               1m35.814s
17.  GTE P  Fisichella/Bruni            AF Ferrari             1m35.968s
18.  GTE A  Ehret/Mullen/Wills          CRS Ferrari            1m36.178s
19.  GTE A  Giroix/Goethe               Gulf Aston Martin      1m36.362s
20.  GTE A  Bornhauser/Canal/Beretta    Larbre Corvette        1m36.370s
21.  GTE A  Lietz/Ried/Roda             Proton Porsche         1m36.455s
22.  GTE P  Beltoise/Farnbacher/Firman  Luxury Ferrari         1m36.631s
23.  GTC    Cheng/Arnold/Hakkinen       AMG China Mercedes     1m36.930s
24.  GTE A  Cioci/Ma                    AF Ferrari             1m37.130s
25.  GTC    Tsuzuki/Kim/Van Dam         Hitotsuyama Audi       1m37.167s
26.  GTC    Gruber/Lee/Tak Mak          Race Experience Audi   1m37.473s
27.  GTC    Mortara/O'Young/Imperatori  C Audi                 1m37.616s
28.  GTE P  Rossiter/Mowlem/Heinemeier  Jetalliance Lotus      1m38.154s
29.  GTE P  Slingerland/Rich/Rasmussen  Jetalliance Lotus      1m39.147s

Practice two:

Pos  Cl     Drivers                     Team/Car                Time
 1.  P1     Montagny/Sarrazin           Peugeot                 1m23.321s
 2.  P1     Bourdais/Davidson           Peugeot                 1m23.504s
 3.  P1     Kristensen/McNish           Audi                    1m23.860s
 4.  P1     Bernhard/Fassler            Audi                    1m24.389s
 5.  P1     Nicolet/Premat/Pla          Oak Pescarolo-Judd      1m25.096s
 6.  P1     Jani/Prost                  Rebellion Lola-Toyota   1m25.929s
 7.  P1     Lahaye/Moreau/Ragues        Oak Pescarolo-Judd      1m26.322s
 8.  P1     Meyrick/Mucke/Primat        Lola Aston Martin       1m27.747s
 9.  P2     Mailleux/Ordonez/Vernay     Signatech ORECA-Nissan  1m29.937s
10.  P1     Shogo/Naoki                 Tokai Courage-ORECA     1m31.550s
11.  P2     Lafargue/da Rocha           Oak Pescarolo-Judd      1m32.522s
12.  GTE P  Farfus/Muller               BMW                     1m34.508s
13.  FLM    Chen/Shanqi                 PTRS FLM                1m34.686s
14.  GTE P  Priaulx/Alzen               BMW                     1m35.121s
15.  GTE P  Fisichella/Bruni            AF Ferrari              1m35.716s
16.  GTE A  Krohn/Jonsson/Rugolo        Krohn Ferrari           1m35.735s
17.  GTC    Cheng/Arnold/Hakkinen       AMG China Mercedes      1m35.788s
18.  GTE P  Ortelli/Makowiecki          Luxury Ferrari          1m35.971s
19.  GTE A  Bornhauser/Canal/Beretta    Larbre Corvette         1m36.235s
20.  GTE P  Beltoise/Farnbacher/Firman  Luxury Ferrari          1m36.315s
21.  GTE A  Ehret/Mullen/Wills          CRS Ferrari             1m36.539s
22.  GTE A  Giroix/Goethe               Gulf Aston Martin       1m37.003s
23.  GTC    Mortara/O'Young/Imperatori  C Audi                  1m37.255s
24.  GTE A  Lietz/Ried/Roda             Proton Porsche          1m37.842s
25.  GTE A  Cioci/Ma                    AF Ferrari              1m38.200s
26.  GTE P  Rossiter/Mowlem/Heinemeier  Jetalliance Lotus       1m38.296s
27.  GTC    Gruber/Lee/Tak Mak          Race Experience Audi    1m38.988s
28.  GTC    Tsuzuki/Kim/Van Dam         Hitotsuyama Audi        1m39.103s
29.  GTE P  Slingerland/Rich/Rasmussen  Jetalliance Lotus       1m40.739s