Michael Schumacher wants more time to decide on Formula 1 future
| | |
| --- | --- |
| By Jonathan Noble | Thursday, November 10th 2011, 14:42 GMT |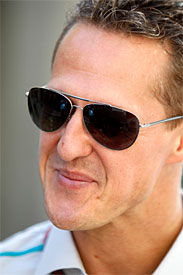 Michael Schumacher wants more time before deciding if he wants to extend his Formula 1 career with Mercedes GP, despite team-mate Nico Rosberg sorting out a fresh deal with the outfit.
Rosberg announced on Thursday that he has signed a new contract at Mercedes GP that will keep him at the team at least until the end of 2013 - with options for beyond that.
The new Rosberg deal has prompted talk that Schumacher too is pondering extending his deal into 2013 – with some reports in the German media even claiming that the deal was done.
Speaking ahead of the Abu Dhabi Grand Prix, however, Schumacher said that it was not guaranteed he would sort out a fresh deal – and that he wanted to wait before working out both his own and the team's future prospects.
When asked if, on the back of Rosberg's announcement, he too was talking to Mercedes GP about a new deal, Schumacher said: "According to some journalists, yes. The reality no, because I told you already several times that this is not the time to talk about it.
"I need a little bit more time to see about myself and how we are heading, and some input to see if that is what I want or not."
Schumacher suggested that one of the reasons why he wanted to hold back on committing his future was that he needed to fully grasp the rate of improvement Mercedes GP made next year – and whether foundations were being laid for success in the future.
"It is more about how we maximise the potential of what we have made. It took some while to do so, talking about our general performance," he explained.
"You have to assess where you are and what needs to be done, and then to transform it. You would rather do this early than late, but we have to understand that we were later than we hoped to be.
"It all comes back to what happened in 2009 to the team. And what happened in 2009 – even if it was a success story - it cannot be said this started in 2009. This goes well back two or three years before that. So everything in either direction has a lead time.
"The important thing is, are we on the right track? Did we take the right measures? And I think yes, but it has to be proven in the future."
Schumacher said that there were circumstances that could make him choose not to continue in F1 beyond 2012 – but it was too early to make a firm decision about the situation right now.
"In the end yes there will be something, but most important – do I feel it? Do I want it or not?" he said about the factors that will influence his choice. "That is something we will find out in the future. Not right now."