Baltimore's IndyCar race facing uncertain future
| | |
| --- | --- |
| By Mark Glendenning | Tuesday, November 8th 2011, 16:33 GMT |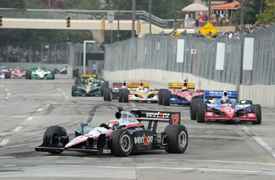 IndyCar's hopes of returning to Baltimore have been cast into doubt after city officials threatened to withdraw their support of the event over claims that they are still owed money by the race organisers.
According to The Associated Press, Baltimore deputy mayor Kaliope Parthemos said that Baltimore Racing Development "has not honoured the terms of its contract," and that it must "work immediately to pay debts owed to the City and State ... aggressively work to repay any debts to vendors, and present a restructured company and management team, or the City will terminate its contract with BRD."
It is understood that up to $1.5 million in tax and debts are owed to the local authorities, which covered the cost of roadworks in the lead-up to the event and provided police, parking and other services. A deadline of 31 December, 2011 has been imposed to avoid the five-year contract for the race from being cancelled.
The City has not yet cashed a $250,000 cheque for the event fee that it received in September on the understanding that BRD needs to restructure its cash reserves.
Several vendors have also claimed that they have not been paid, with some of those debts having already become the subject of legal action.
BRD representatives have acknowledged that they are behind on certain payments - an estimated $1.8 million in total – and said that they are working with their creditors to find a solution. One priority is to secure a title sponsor for next year's race, something the event did not have this year.
Former BRD CEO Jay Davidson has already stepped down from his role, although he reportedly plans to remain with the company in an unspecified capacity.
Terry Angstadt, president of IndyCar's commercial division, said that he was hopeful that BRD could resolve its problems.
"We certainly understand the position that the mayor is taking and we are still hopeful that those conditions can be met," he told AP. "We are very hopeful that restructuring will happen."
Baltimore became an immediate hit among the IndyCar fraternity at this year's inaugural race, with drivers praising the circuit's challenging layout and city's huge levels of crowd support. Organisers estimated a three-day attendance of 160,000.