British F3 to award full points for reversed-grid races in 2012
| | |
| --- | --- |
| By Jamie O'Leary | Tuesday, November 8th 2011, 11:35 GMT |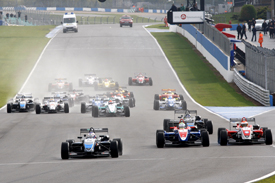 Full points will be awarded for reversed grid races in British Formula 3 next year.
Championship organisers announced on Tuesday that the races, which awarded only 10 points to the winner, will now count for 20, just like the two longer races on the bill.
An additional change is that where reversed grids have in the past been decided by taking the race one finishing order and then randomly reversing the first six to 10 finishers, now the reversing process will be applied to drivers finishing anywhere between eighth and 12th.
Lisa Crampton, general manager of series organiser SRO, said that further rule changes could be implemented before the start of the season, including the adoption of pitstop races, which were trialled in 2010.
"We are still considering further regulation options, and will be looking closely at the reintroduction of pitstop races," she said.
The series has also rubber-stamped its adoption of the FIA's 2012-spec F3 cars, such as the Dallara F312, and confirmed that the National Class will now be for machines homologated for the 2008-2011 period. The National Class champion will win a test with one of the Championship Class teams at the end of the season.
The 2012 calendar has also been announced, with only one venue change compared to this year. The Pau Grand Prix in May will replace the Nurburgring round.
2012 British F3 calendar
April 6-8: Oulton Park
April 14-15: Monza
May 12-13: Pau
May 26-27: Rockingham
June 23-24: Brands Hatch GP
June 30-July 1: Paul Ricard
July 26-27: Spa-Francorchamps
August 4-5: Snetterton
September 8-9: Silverstone GP
September 29-30: Donington Park GP