| | |
| --- | --- |
| Casey Stoner admits he threw caution to the wind in epic Valencia finale | |
| | |
| --- | --- |
| By Matt Beer | Sunday, November 6th 2011, 14:29 GMT |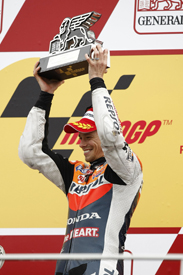 World champion Casey Stoner said he took more risks in the last half-lap of the MotoGP season finale at Valencia than he had all year as he snatched victory from Ben Spies in a thrilling conclusion to the 2011 campaign.
Stoner beat Spies over the line by just 0.015 seconds after getting a better run out of the last corner in slippery conditions.
Spies had earlier escaped from a big battle for second to chase down Stoner as the rain fell - the Australian having pulled away in the earlier, less treacherous, stages.
Honda rider Stoner said the weather had made it an extraordinarily tough race from the outset.
"All weekend to be honest the conditions have been atrocious really," he said.
"The conditions weren't wet, they weren't dry, and then even when we had a dry track it wasn't really dry, there were always some spots or some wet patches. The conditions have just been really difficult to deal with and the race was no different.
"There was rain the whole race - just little bits and pieces, it would change what corner it was and how hard it was lap by lap, so you didn't really know how hard to go into each corner as you were approaching it."
He felt he was in complete control until the rain intensified late on.
"We built up a really good lead, really comfortable, and every time I felt there was a bit too much rain I'd back off, wait for the rain to subside, they'd catch me a bit and then I'd be able to increase the lead again. And I felt pretty good out there. The bike was working well," Stoner said.
"Then it got to the point where it just started to rain heavier and heavier, and I went into a couple of corners and the rear came round on me and I just really wasn't too keen on pushing any harder than I was and I thought 'at least when they catch up, if somebody does come past, I'll keep going at what I'm comfortable with and when somebody comes past I'll be able to see then where the limits are and if they're getting a bit slippery or not.'
"Ben came past after I made a small mistake and hit neutral, and he was looking great - he was riding the corners really nicely, smoothly. I was able to catch him a little bit on the brakes and the acceleration points, but other than that I didn't think I was going to get a chance to do anything and I wasn't really willing to take any risks."
But he said he then realised that with nothing to lose, he may as well throw caution to the wind on the run to the flag.
"I suppose on the last half of the last lap, I thought 'this is it, this is the last lap of the year for us' and I just decided to go for it and take some risks that I haven't taken all season," Stoner explained.
"It came out very good for us. We were able to catch Ben going right into the last turn. We got a fantastic drive - I don't think I could've got a better run going onto the last straight and I managed to just pip him on the line.
"Sorry to Ben, but we're very happy to end the season like this."
Stoner's Valencia win was his 10th of the year, and means he ends the campaign 90 points ahead of nearest rival Jorge Lorenzo in the standings.