Carl Edwards plays down Tony Stewart's title threat status in NASCAR battle
| | |
| --- | --- |
| By Diego Mejia | Saturday, November 5th 2011, 20:35 GMT |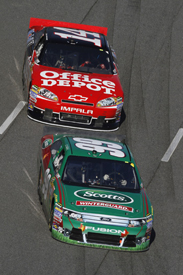 Chase leader Carl Edwards claims Tony Stewart is not his main threat for the championship as the battle for the NASCAR Sprint Cup title enters its defining stages.
After seven out of 10 play-off events, the Roush Fenway driver leads the standing by nine points over Stewart, who has won three out of the seven Chase races, and recently took victory at Martinsville.
Stewart warned Edwards following last week's win, saying his rival had "better be real worried," and adding "he's not going to sleep for the next three weeks". Edwards tried to shrug off Stewart's comments, saying his true rivals currently rank behind Stewart in the Chase standings.
"This week I've thought a little bit about who my real competition is and, no offence to Tony or anything, but I think the guys that are behind him are truly the guys who have the biggest chance of doing well over the next three weeks," said Edwards.
"They've shown they can run up front in the points all year and although Tony could go on a roll, what I've been sticking to this week is that it would be foolish of me to just focus on him and not pay attention to these other guys who have been very, very fast.
"All the talk in the world doesn't mean anything. You have to go out here and perform and race well and that's what we're here to do."
Stewart, who could become the first owner to win a title driving for his own outfit since Alan Kulwicki did it in 1992, said his warning to Edwards remains in place and that it was not an emotional claim following his third win of the season. He says his rival is making a mistake if he is really counting him out as a true championship threat.
"The feeling hasn't changed," said Stewart. "It wasn't the adrenaline that was saying that. I've been racing 31 years and we've been a part of a lot of championship battles and I know what that feeling is when you feel that stuff is going right and that you've got that shot again.
"Like I said, he's making a mistake if he's counting us out and if he thinks it's just a mind game deal, I really don't care what he does. I'm going to control my destiny and my car, I don't care what he does with his car. I'm going to take care of business with ours."
Edwards has been twice a close contender for the Cup title, first in 2005 when he lost to Stewart and then in '08 when he finished third to Jimmie Johnson. He believes going through losing those championships has given him the experience to be more confident this time around, although he says he is not putting any added pressure on himself.
"I feel that we can do it," said Edwards. "I feel we've escaped some of our bad tracks and bad days and still been able to fight and claw and come up with something good. Now, we're going to some tracks that we can run well [at], but I also understand how much can go wrong. I know things that can happen and it's not over until it's over."
He added: "I really and truly learned some valuable lessons in 2005 and 2008. In 2005, we were leading the race at Homestead. I think I almost put Tony a lap down to win that championship and it didn't work out. He ended up winning and we ended up tied for second. That was my first shot at a championship.
"Right then, I thought, 'Aw, that's no big deal. We'll win it next year.' That was obviously pretty naive. Then in 2008 we were very, very fast and really good at every racetrack. I learned a lot of lessons through losing that one, making a mistake and having a part failure.
"Win, lose or draw I'll be back here next year, the year after that and the year after that. We're going to be tough for a long time, so what I'm doing is trying not to let myself think about this particular championship. I'm not putting a bunch of importance on it or trying to change things. I don't go to bed thinking about this thing - winning it or anything. I'm trying to go do my job."
Edwards enters this weekend's Chase round at Texas as the driver with the most Cup victories at the track, winning six years ago for the first time before sweeping the races at the 1.5-mile venue in 2008.