| | |
| --- | --- |
| Casey Stoner plays down having equalled Mick Doohan's season pole record | |
| | |
| --- | --- |
| By Toby Moody and Matt Beer | Saturday, November 5th 2011, 19:14 GMT |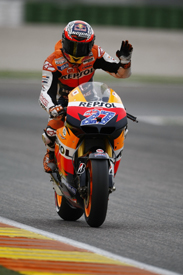 Casey Stoner says he does not think his record-equalling tally of 12 pole positions in a premier class season this year should be compared to Mick Doohan's benchmark 12-pole tally from the 1997 500cc world championship.
Champion rider Stoner claimed his 12th pole of the year at Valencia today to draw level with Doohan's mark, in a year when no one else has taken more than two poles. But Stoner, who has also won nine races this season, insisted that as the 2011 MotoGP calendar featured 18 rounds and Doohan scored his 12 poles within 15 races, comparisons were inappropriate.
"I think it's pretty nice for the season we've put together so far to get 12 poles, but as far as the record books, Mick did his poles in a lot less races and a completely different time, era and everything, so there's really no way to compare it or anything," said Stoner.
"I'm just happy to get the amount of poles that we have this year and to finish off the season in qualifying so strongly."
Stoner said he had initially been concerned that he might end his year with a disastrous qualifying result as he feared being caught out by the unpredictable weather.
"Unfortunately we had two wet [set-up] bikes at the start of the session," he explained. "We decided to go for the dry bike and had to change settings and everything, and I was a little late getting out.
"I thought if the rain started, everyone else was going to get a banker lap in and we weren't going to have anything. We were lucky and we got a good lap time in straightaway, but we thought it was going to be beaten."
He added that qualifying had been tricky throughout, with conditions never really ideal.
"As the session went on, the conditions didn't get better but they didn't really get worse," said Stoner, who ultimately took pole by a full second. "There were some bigger spots [of rain], some smaller spots, a bit of spray around, and it was really difficult to understand how much to push.
"At the end we just put a new soft rear on with the hard front, which we got a bit more stability out of, and tried to go for it. I didn't want to push too hard in the wet conditions, but I made sure my tyres were warm and the bike worked great.
"We can still go quite a bit faster, if everyone had a completely dry session all the times would've been a bit faster, but I'm very happy to be on pole. It's the best way to start the race tomorrow."