Engine supplier role 'ideal' for Renault as boss rules out works team return
| | |
| --- | --- |
| By Jonathan Noble | Monday, October 31st 2011, 10:50 GMT |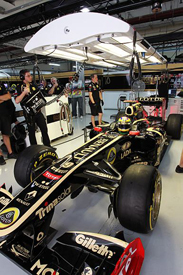 Renault's commitment to Formula 1 for the long-term future is stronger now than at any time in its recent history, claims its CEO Carlos Ghosn.
Although the French car manufacturer will officially cease to have its own team in 2012 with the Renault outfit set to be renamed Lotus, Ghosn believes that the push for the company to become just an engine supplier is a much better approach.
"When you have one team, and when the team wins, you are doing great, but when the team is not having a great performance then you are doing less great," said Ghosn, when asked by AUTOSPORT about the success of Renault's recent F1 programme.
"In a certain way you have ups and downs and you are putting all your eggs in one basket. You know it is not what we are looking for - we are not here to compete in F1. We are here to sustain our name, our brand, to sustain our technology, to sustain our image of a reliable car manufacturer.
"And because of this I feel much more comfortable with the strategy we have today where we are partners with, next year, four teams, providing engines and hopefully many of them are going to be very well positioned in the race. That is what I think."
Although Renault enjoyed great success with its own F1 team, winning back-to-back world championships in 2005 and 2006, Ghosn says that there is no interest for now in looking at opportunities for another team tie-up.
When asked if the days of Renault as a constructor are over, he said: "Yes. Every CEO will tell you that this is it; this is going to last for ever. But it won't, as you know. We change, and we adapt. It is a function of the circumstances, a function of the technology and a function of the competition, but for the moment and for the foreseeable horizon we feel very comfortable with this, so you can count on this for at least the next three to five years."
In the interview that took place with selected media at the Indian Grand Prix, Ghosn expressed some interest in expanding Renault's supply deals beyond the four teams planned for 2012 - Lotus, Caterham, Williams and Red Bull Racing – and has ruled out any chance of its power-units being rebranded as Infiniti.
"I don't think you can artificially give a name," he said. "If Renault is providing the technology, you cannot artificially say for marketing reasons I am going to name it 'Infiniti.' It doesn't work.
"Somehow the name has to translate some authenticity. For the moment, the technology is Renault technology, the team working on it is Renault, and it is going to continue like this for the foreseeable future. Infiniti, even though there can be an exchange of technology, but not on the engine, just other things – the engine is the domain of Renault and will remain the domain of Renault for the foreseeable future."
Ghosn also said he expected Williams to deliver a step forward in form next year as it renews its partnership with Renault.
"We trust the Williams team and obviously we provide engines to them because we believe they have much higher potential than what they are delivering today," he said.
"They have a strategy that they are sharing with us, and we think that by supplying them with engines it is going to help them reposition themselves in a much better place into the competition."