Alguersuari sure Toro Rosso can overtake Sauber in final two races
| | |
| --- | --- |
| By Pablo Elizalde | Sunday, October 30th 2011, 12:11 GMT |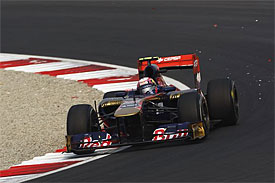 Jamie Alguersuari is confident his Toro Rosso team will finish ahead of Sauber this year after having caught the Swiss squad after the Indian Grand Prix.
Alguersuari finished in the points for the second race in succession after coming home in eighth position following another strong display by the Faenza-based squad.
The Spanish driver was delighted with the result, which allowed Toro Rosso to match the amount of points of Sauber: 41.
With two races remaining, Alguersuari is optimistic his team can leap ahead of its rival and finish in seventh position.
"I am very happy with the performance of the team overall as this race was another good one for us, with a pace that was as quick as the one we had shown in Korea," said the Spaniard. "I managed to pass Senna and then Sutil because of this.
"I was also ahead of the Saubers and I think this result reflects where we should be in the order. It is encouraging that we could outperform the Renaults. Once again the team did a great job in preparation work, in the sessions and in the pitstops and it looks like we are on the right road.
"I am very happy to have scored four points which puts Toro Rosso on the same total as Sauber. I am looking forward very much to the next two races as I think that if we do a good job we can end the year ahead of them. It's a shame that Sebastien did not finish, both for him and for the team. But I am sure he will back in the points soon."
Team-mate Sebastien Buemi had a disappointing race after retiring with a technical failure when he looked set for a top-eight finish.
"I am very disappointed with what happened this afternoon, because I was having a very good race, after an excellent qualifying yesterday," he said. "When the car stopped, I had just passed Hamilton, I was lying eighth and I think we could have finished in the top eight.
"So when you go from that promising situation, to a non finish with no points, it's a bit difficult to take. However, if we look on the positive side, our pace all weekend has been good, confirming the step forward we showed in Korea. So now we have to work hard and keep going in this direction for the final two races when I hope to be back in the points again."