Mixed emotions for winner Vettel after tragic two weeks for motorsport
| | |
| --- | --- |
| By Jonathan Noble and Pablo Elizalde | Sunday, October 30th 2011, 11:43 GMT |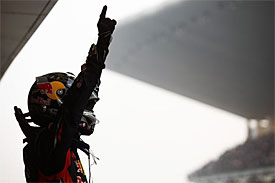 Sebastian Vettel admitted he was left with mixed emotions following his win in the Indian Grand Prix after a tragic two weeks for the world of motorsport.
The Red Bull driver paid tribute to two-time Indy 500 winner Dan Wheldon and MotoGP rider Marco Simoncelli, both killed in races over the past two weeks.
"To be honest with you, it is a little bit of a mixed emotion," said Vettel after scoring his 11th win of the season.
"On the one hand I am very happy, very proud to be the first winner, but on the other hand looking back at last weekend we lost two of our mates. I didn't know Dan but obviously he is a big name in motorsport.
"This year I got to know Marco Simoncelli and our thoughts are with them. We are ready to take certain risks when we get in the car, but sometimes things happen. As I said a bit of mixed emotions and our thoughts are with them at the moment."
He added: "Obviously it was a very good race for us. I enjoyed the time in the lead very much. I had a bit of a fight with Jenson in the distance as he was always four seconds behind and with the strategy he kept closing in during the pitstops."
Vettel won the race from pole position, leading every lap, and setting the fastest lap to continue with his dominant season.
The German broke Nigel Mansell's record for most laps led during a season, but said he was not focused on records like that and said he just wants to continue enjoying his season.
"I don't mind," he said. "I think we can continue. The car is fantastic and the team is enjoying it. We are on a run since the beginning of the season. We enjoy every race. The great thing is when you walk in the garage every morning, they are flat out and pushing very hard.
"It's really enjoyable to see that knowing what we have achieved, we are still hungry, not lacking motivation. The people come with questions but we come back with the right answers, so we don't want this to end."