NASCAR Sprint Cup leader Carl Edwards adamant he can handle title pressure
| | |
| --- | --- |
| By Diego Mejia | Saturday, October 29th 2011, 15:08 GMT |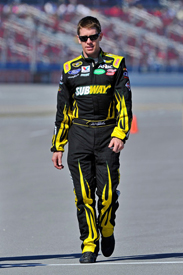 Carl Edwards says he feels comfortable leading the Chase after having topped the NASCAR Sprint Cup standings more than any other driver in 2011.
The Roush Fenway racer has been at the top of the points table for 18 of 32 race weekends during the year, leading most of the regular season before jumping back up front three weeks ago after the Chase round at Kansas, thanks to some very consistent finishes in the first three races of the play-off.
While many of his Chase rivals have already stumbled in the past few weeks, Edwards has been able to avoid trouble to remain in the lead despite not winning a race since the third event of this season at Las Vegas, almost eight months ago.
Back in 2008 Edwards was Jimmie Johnson's main championship rival for most of the play-off, actually leading the standings after the first two Chase races. However an incident at Talladega and technical issues at Charlotte gave Johnson an edge that would allow him to claim a third consecutive title, despite Edwards winning three out of the last five races of the season.
Edwards believes he is mentally in much better shape three years later as he faces his best shot at his maiden Cup title. He currently holds a 14-point advantage over his team-mate Matt Kenseth while Penske's Brad Keselowski and Stewart Haas' Tony Stewart trail him by 18 and 19 points respectively, ahead of Richard Childress' Kevin Harvick and Johnson.
"I've been doing this just long enough now to realise how great any advantage is," Edwards says. "Early on, I think maybe even in 2008, I felt that being in the points lead had some sort of pressure, it was an unfamiliar feeling, but especially this season we've led the points for a number of races.
"I have a comfort level with that and this week in particular, this week has been a relief to have this points advantage. It doesn't bother me anymore to lead the points. It doesn't add stress to me personally, it's just a cushion and part of that comes from realising how quickly it can go away. It can be gone this weekend, so I'll take all the points I can."
Last year Edwards won the last two races of the Chase but he was too far back in the points by then to be a contender. He says having gone through that makes him value his current position at the top of the standings even more.
"If it were a four-race Chase or something like that [last year], we would have been right there in the thick of it, but I guess it was frustrating because I felt like we were kind of spinning our wheels there because no matter how well we ran the last few races, we weren't going to have a shot at the title, so now I'm real grateful for being in he position that I'm in now - that we have not fallen off performance-wise.
"We're still running well and we're up there and we can fight for this title. Some of the guys that we're racing in this Chase have had bad races and had bad luck and they probably feel more like I did last year, where they're thinking, 'Man, we're 50-60 points out, but if we were even right now we could win.' So I guess I'm just truly grateful for the position I'm in."
With four races left, Edwards is not especially wary of any of his Chase rivals in particular and refuses to put Johnson out of the championship picture despite him being already 50 points behind, more than a race's worth.
"I think all of those guys [Kenseth, Keselowski, Harvick and Stewart] are going to be tough," says Edwards. "I know how tough Matt can be. He could literally go win three out of the next four races and dominate this thing. I think from what we've seen out of Brad this year, I think he's a huge threat. He hasn't made any mistakes. He's done a really good job.
"Tony is a two-time champion and only 19 points out. I think all of those guys are tough. Even Jimmie. I know a lot of people are discounting Jimmie, but those guys can definitely win this race. I know how fast they are at the new surface at Phoenix. They could win that one. They could literally just go on a tear and dominate this thing, too, so I still think the shape of it is not set.
"I don't think you can set one or two guys up there and say they're going to be the definite guys to race."
Edwards' worst finish in this year's Chase was his 11th place from last week at Talladega, his only result outside the top 10 over the past six weeks. He starts Sunday's Chase race at Martinsville from pole position.