Bruno Senna: I need to be less tough on myself
| | |
| --- | --- |
| By Jonathan Noble | Friday, October 28th 2011, 07:06 GMT |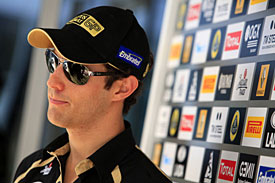 Bruno Senna reckons he needs to be less tough on himself if he is to deliver the performances that will secure him a race seat for 2012.
After an impressive start to his spell at Renault, Senna has had a tougher time in the last few events - and had a particularly difficult weekend in Korea a fortnight ago.
But after kicking himself for what happened in Korea, Senna reckons that he needs to be more realistic about what he can do and the pressures he puts on himself.
"There is always more pressure the further you go into the season to have results, because in theory you should always be getting better and better and better," said Senna.
"But I need to be quite careful with that - even I had forgotten that last weekend was only my fifth race, and I am competing against guys who have done 17 races in the same space of time. So if I don't give myself a break sometimes when I have difficulties, and there will be difficulties all the time, then I might struggle with my head.
"The pressure is there. I want to go better and better every race, but sometimes like last weekend we had a difficult situation and it put me in a bad position, but there is no point dwelling too much on it. We try to learn from the mistakes.
"I want to do well for these last few races. It is going to be important for sure, but I have to make sure that I keep my mind in the right place considering I am not there with the other guys yet."
Senna says that he sat down with the team after Korea to work out what had gone wrong there – and thinks he has understood where mistakes were made.
"We hope we have a good solution," said Senna. "We have been looking at our previous races and I think we have understood what we have done wrong in the last race especially, and hopefully we will be back on good performance this weekend.
"It was because I had such short mileage and didn't have much reference from before, good reference from before, I went in the wrong route with the engineers.
"Plus every change we made was always made with a tyre change as well, so it was always going to feel better. So I think looking back if I did a few more miles I would have gone back on some changes and the car would have been more competitive for the race."
When asked about his feelings about 2012, Senna said: "Unfortunately if you don't have a contract signed there is no guarantee of having a place anywhere, but I think I have done a good few favours myself in terms of performance, qualifying performance lately, and it puts everything in a better position for the confidence the other people can give me.
"I would love to stay here. I like the guys here a lot. If I can stay here and get the right package and Robert [Kubica] cannot come back then hopefully I will be happy to."