Button believes high-speed nature of Buddh International Circuit will suit McLaren
| | |
| --- | --- |
| By Jonathan Noble and Sam Tremayne | Thursday, October 27th 2011, 12:21 GMT |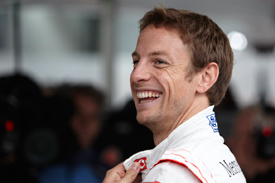 Jenson Button believes the layout of the Buddh International Circuit could play into McLaren's hands and boost its chances of victory at the weekend.
Button said the circuit's design was most akin to Spa-Francorchamps and Suzuka, high speed circuits on which McLaren has made big improvements. Button qualified 0.009s off pole and won at Suzuka earlier this month.
"In terms of the way you set the car up, I'd say it's more like Spa and Suzuka rather than Singapore or Korea," Button explained. "Our car seems to work well on this type of circuit, so I'm looking forward to getting out there.
"[In Korea] the Red Bulls did have the edge I would say, but the low speed exits and straight line traction is where they are very strong. The high speed circuits are where we have really improved.
"In Korea we also struggled with understeer, which for us was a big issue. I think Lewis had rubber affecting his front wing and I had a stone embeeded, which losy us a lot of downforce. It's happened before but it is very unusual, and the team is looking at ways to prevent it."
Button said that he was happy with the direction the team had taken following initial simulator laps of the circuit, and that touring the track for the first time left him excited about the weekend.
"I've driven about 80 laps on our simulator and I felt comfortable with the direction we took for set-up. I also liked [the track], but seeing it in reality it looks really good, so it should be a lot of fun.
"It might take a few hours to properly clean the track, but they have done a really good job on the layout. We will see properly tomorrow, but the entry to corners looks good for overtaking - the wide entry, tight apex and exit means you have to slow the car down a lot and means its all about braking.
"They've also worked really well on the high speed corners - they're very demanding but we love them and you need them on a circuit. When you walk round you feel the hills of the circuit more which is good. There are corners like Turn 3, a blind uphill entry, which makes it very exciting."