Mitch Evans stays on top in Barcelona GP3 test
| | |
| --- | --- |
| | Wednesday, October 26th 2011, 16:09 GMT |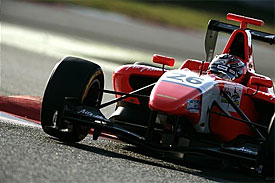 MW Arden's Mitch Evans finished on top of the times on the second and final day of GP3 testing at the Circuit de Catalunya in Barcelona.
The New Zealander, who had also been quickest on the opening day of the test on Tuesday, posted a best time of 1m37.793s in the morning session to finish nearly three tenths ahead of Finn Matias Laine in the Manor car.
Evans also topped the afternoon session, but his time was about a second slower than in the morning. The 12 fastest times of the day were set in the morning.
Maxim Zimin finished as third quickest, the Russian leading a trio of Jenzer Motorsport cars, with Michael Heche and Brandon Maisano completing the top five.
GP3 will be back on track on November 23 for the second post-season test at the Valencia circuit.
Morning times:
Pos  Driver                Team                  Time     Laps
 1.  Mitch Evans           Mw Arden              1:37.793   24
 2.  Matias Laine          Manor Racing          1:38.048   31
 3.  Maxim Zimin           Jenzer Motorsport     1:38.076   26
 4.  Michael Heche         Jenzer Motorsport     1:38.140   30
 5.  Brandon Maisano       Jenzer Motorsport     1:38.207   29
 6.  Marlon Stockinger     Status Grand Prix     1:38.286   32
 7.  Daniel Abt            Lotus Art             1:38.330   39
 8.  Tio Ellinas           Mw Arden              1:38.420   23
 9.  Carlos Huertas        Carlin                1:38.609   33
10.  Gabby Chaves          Manor Racing          1:38.621   29
11.  Tamas Pal Kiss        Atech Crs Gp          1:38.631   32
12.  Kevin Korjus          Tech 1 Racing         1:38.719   26
13.  Miki Weckström        Tech 1 Racing         1:38.793   26
14.  Edoardo Liberati      Mw Arden              1:38.971   33
15.  Markus Pommer         Rsc Mücke Motorsport  1:39.003   29
16.  Kotaro Sakurai        Status Grand Prix     1:39.395   34
17.  Nick Yelloly          Atech Crs Gp          1:39.460   30
18.  Cott Malvern          Status Grand Prix     1:39.511   36
19.  Pieter Schothorst     Addax Team            1:39.584   42
20.  Nicolas Costa         Carlin                1:39.761   37
21.  Pascal Wehrlein       Rsc Mücke Motorsport  1:40.044   34
22.  Gerardo Nieto         Tech 1 Racing         1:40.328   27
23.  Gregoire Demoustier   Lotus Art             1:41.052   20
24.  Ethan Ringel          Atech Crs Gp          1:41.751   38
25.  Michela Cerruti       Addax Team            1:42.097   27
26.  Aaro Vainio           Lotus Art                         1

Afternoon times:
Pos  Driver                Team                  Time     Laps
 1.  Mitch Evans           Mw Arden              1:38.751   24
 2.  Matias Laine          Manor Racing          1:39.172   31
 3.  Tio Ellinas           Mw Arden              1:39.393   26
 4.  Aaro Vainio           Lotus Art             1:39.398   30
 5.  Marlon Stockinger     Status Grand Prix     1:39.451   29
 6.  Tamas Pal Kiss        Atech Crs Gp          1:39.470   32
 7.  Carlos Huertas        Carlin                1:39.539   39
 8.  Gabby Chaves          Manor Racing          1:39.574   23
 9.  Brandon Maisano       Jenzer Motorsport     1:39.653   33
10.  Daniel Abt            Lotus Art             1:39.657   29
11.  Kevin Korjus          Tech 1 Racing         1:39.713   32
12.  Edoardo Liberati      Mw Arden              1:39.728   26
13.  Maxim Zimin           Jenzer Motorsport     1:39.743   26
14.  Michael Heche         Jenzer Motorsport     1:39.803   33
15.  Markus Pommer         Rsc Mücke Motorsport  1:40.074   29
16.  Miki Weckström        Tech 1 Racing         1:40.346   34
17.  Nick Yelloly          Atech Crs Gp          1:40.395   30
18.  Kotaro Sakurai        Status Grand Prix     1:40.416   36
19.  Gregoire Demoustier   Lotus Art             1:40.544   42
20.  Pascal Wehrlein       Rsc Mücke Motorsport  1:40.569   37
21.  Scott Malvern         Status Grand Prix     1:40.804   34
22.  Nicolas Costa         Carlin                1:40.896   27
23.  Gerardo Nieto         Tech 1 Racing         1:40.933   20
24.  Pieter Schothorst     Addax Team            1:41.144   38
25.  Ethan Ringel          Atech Crs Gp          1:43.170   27
26.  Michela Cerruti       Addax Team            1:43.373    1