Waltrip and JTG teams penalised over illegal windshields
| | |
| --- | --- |
| By Diego Mejia | Wednesday, October 26th 2011, 08:35 GMT |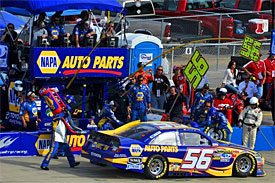 The Michael Waltrip Racing and JTG Daugherty teams have been penalised for technical infractions found on their cars last weekend at Talladega.
The cars of Martin Truex Jr, David Reutimann and Bobby Labonte were found to have windshields that didn't meet NASCAR specification for thickness during the opening day technical inspection last Friday at Talladega Superspeedway.
The parts, critical to aerodynamic performance at the high-speed track, were confiscated by NASCAR and replaced by the teams before their cars hit the track for practice. A fourth car prepared by MWR for driver/owner Michael Waltrip passed the same inspection without issues.
As a result of the irregularities, crew chiefs Chad Johnston [Truex], Rodney Childers [Reutimann], Frank Kerr [Labonte] have each been fined $50,000, have been suspended from the remaining four NASCAR Sprint Cup Series Chase events and also suspended from NASCAR until the end of the season.
Car chiefs Anthony Lunders, Steve Channing and Raymond Fox have likewise been suspended for the same period, while Bobby Kennedy, director of competition for Michael Waltrip Racing, has been placed on NASCAR probation until the end of the year.
Each of the three teams, which are not part of those contending for the Sprint Cup series title, have also been docked 25 points in the drivers and owners championships.
"Michael Waltrip Racing is ultra-sensitive and very serious about working within the guidelines of NASCAR policy," MWR officials said in a statement. "We do not condone this type of activity and as such we will take appropriate internal corrective action immediately.
"We thank NASCAR for providing a fair and equitable platform for all of its competitors and respect its decisions; therefore, we will not appeal."
Neither MWR, nor JTG Daugherty plan to appeal the penalties imposed.