Narain Karthikeyan says India will be a 'surprise' to the Formula 1 fraternity
| | |
| --- | --- |
| By Jonathan Noble and Matt Beer | Monday, October 24th 2011, 16:13 GMT |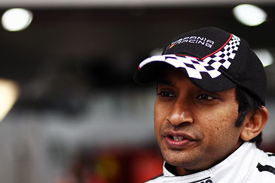 Narain Karthikeyan says Formula 1 will find India an 'eye-opening' experience when the grand prix fraternity comes to race in the nation for the first time this weekend.
Karthikeyan will return to an HRT race seat, replacing Tonio Liuzzi, for his country's first GP, which takes place at the new Buddh International Circuit, and he thinks F1 will love - and be surprised by - his home nation.
"It will certainly be an eye-opener, there's no two ways about it," said Karthikeyan.
"There are many things that they will be surprised about, but it will be an interesting place and 90 per cent of the [F1] people will love it."
Karthikeyan also reckons drivers will be impressed by the Buddh circuit.
"They've taken a lot of corners from many tracks - they've kind of taken the best and put it there," he said. "There are a lot of medium-speed corners, and a long straight. It's very wide in places. It's nice."
The circuit is another brainchild of established F1 circuit designer Hermann Tilke, but Karthikeyan does not think it will be regarded as just another Tilke track.
"In all the safety aspects, yes. But it has more character," he said. "There is a lot of up and down... even on the main straight you climb up and then come down and then climb up and brake. It's come out really well."
The 34-year-old admitted that the Indian public were likely to be disappointed to see him at the back of the field with HRT, and that those new to F1 might struggle to understand his lack of pace.
"Obviously there is a lot of buzz happening and a lot of media interest," said Karthikeyan.
"Everyone is expecting me to do well, but it's going to be hard to explain to the Indian public why you're at the back of the grid because they don't understand like the Europeans. But nevertheless, I think they'll enjoy it.
"It will be very difficult [to explain]. The easiest way is to say that we can't compete with Ferrari or McLaren because we don't have the resources, and that's absolutely true.
"But what they do realise is that equipment is important in Formula 1, because Michael [Schumacher] has a huge following in India, and they realise that he was dominating and now he has come back and since then he hasn't even had a podium, so people do realise that it's not only about the drivers, in Formula 1 it's also the cars."