Clint Bowyer beats Richard Childress team-mate Jeff Burton to victory at Talladega
| | |
| --- | --- |
| By Diego Mejia | Monday, October 24th 2011, 00:57 GMT |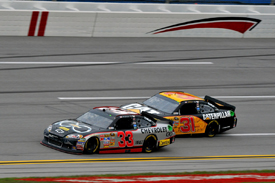 Clint Bowyer edged his Richard Childress Racing team-mate Jeff Burton in a close finish at Talladega, giving the team its 100th NASCAR Sprint Cup victory.
The RCR pair worked in tandem all the way through the 500 miles and were up front when the green flag waved for the final restart with two laps to go, following the ninth caution of the race - caused by an incident in which Furniture Row's Regan Smith crashed hard against the SAFER barrier at Turn 2.
Bowyer lined up right behind Burton to push him in the two-car draft after crossing the start-finish line to start the penultimate lap, both gaining enough momentum to be able to break away from the pack immediately.
Then out of the final turn, with rivals way behind in their mirrors and the chequered flag in sight, Bowyer made his move on the inside to try to beat his team-mate, eventually being able to just edge Burton by 0.019 seconds in a close drag race to the finish.
"I knew it was too early to go, but it was going to be a drag race, give us both a shot at it," said Bowyer after claiming his fifth Cup win, his second at Talladega.
"[Burton] worked so well with me all day long. You hate that it comes down to that. It is what it is. You owe it to your team, to your sponsors to go out and win the race. Unfortunately it came down to that situation.
"But trust me, I was prepared to push him to the win no matter what the cost was if we would have had people breathing down or necks, too. Just wasn't meant to be for him. He's been a great team-mate. Learned a lot from him. He's already won a lot of races. I think he's won like 20-something races, I've only won five."
Dave Blaney ran third at the flag, pushed by Chase contender Brad Keselowski in fourth, ahead of the Red Bull tandem of Brian Vickers and Kasey Kahne, the latter recovering from a spin earlier in the race. Tony Stewart led the most laps, working with at least three different drafting parters, and eventually finishing seventh.
Roush Fenway Racing's Carl Edwards finished 11th after a conservative run to the finish, pushed by his team-mate Greg Biffle. His solid result allowed him to increase his lead in the Chase standing up to 14 points over his team-mate Matt Kenseth, who finished 18th.
"That was a heck of a day for teamwork," said Edwards. "Greg did an unbelievable job of sticking with me and we get to come out of here extending our points lead, which is good. I am pleased that we are able to get out of here with the points lead intact because you just never know what can happen here and to extend it is just great."
Hendrick Motorsports drivers had looked strong in practice and qualifying, sweeping the front row of the grid, and despite all of them taking turns in the lead of the race while drafting together, they were unable to make enough progress in the closing laps, after running at the back of the field for most of the race while trying to avoid trouble.
"With the green-white-chequered situation, there's not a lot of time to get organised and we lost our momentum there and got to the outside and kind of stalled out up on the top and finished far worse than we had hoped to," said Johnson, who moved up one spot in the Chase but lags now 50 points from Edwards.
Kevin Harvick and Kyle Busch were both involved in a multi-car incident on lap 104 when Richard Petty's AJ Allmendinger lost control of his car while being pushed by his team-mate Marcos Ambrose. Kurt Busch was also among the Chase contenders hitting trouble, crashing hard into the spinning JTG Daugherty Toyota of Bobby Labonte later on.
Ryan Newman also had a tough day, spinning on lap 80 while pushed by his Stewart Haas team-mate Stewart, dropping to the bottom of the Chase standings as a result.
Labonte was checked for pain in one of his feet at the track's infield care centre while all other drivers involved in incidents were evaluated and released.
Results - 188 laps:

Pos  Driver              Team/Car                         Time/Gap
 1.  Clint Bowyer        Childress Chevrolet          3h29m14.000s
 2.  Jeff Burton         Childress Chevrolet              + 0.018s
 3.  Dave Blaney         Baldwin Chevrolet                + 1.464s
 4.  Brad Keselowski     Penske Dodge                     + 1.523s
 5.  Brian Vickers       Red Bull Toyota                  + 1.776s
 6.  Kasey Kahne         Red Bull Toyota                  + 1.835s
 7.  Tony Stewart        Stewart Haas Chevrolet           + 2.318s
 8.  Denny Hamlin        Gibbs Toyota                     + 2.367s
 9.  Michael Waltrip     Waltrip Toyota                   + 2.375s
10.  Martin Truex Jr     Waltrip Toyota                   + 2.392s
11.  Carl Edwards        Roush Fenway Ford                + 2.422s
12.  Paul Menard         Childress Chevrolet              + 2.442s
13.  David Reutimann     Waltrip Toyota                   + 2.451s
14.  Greg Biffle         Roush Fenway Ford                + 2.482s
15.  Trevor Bayne        Wood Brothers Ford               + 2.543s
16.  Landon Cassill      Phoenix Chevrolet                + 2.575s
17.  Casey Mears         Germain Toyota                   + 2.578s
18.  Matt Kenseth        Roush Fenway Ford                + 2.605s
19.  Marcos Ambrose      Petty Ford                       + 2.620s
20.  Mark Martin         Hendrick Chevrolet               + 2.740s
21.  Travis Kvapil       Front Row Ford                   + 2.803s
22.  David Gilliland     Front Row Ford                   + 2.868s
23.  Juan Pablo Montoya  Earnhardt Ganassi Chevrolet      + 2.910s
24.  Joey Logano         Gibbs Toyota                     + 2.926s
25.  Dale Earnhardt Jr   Hendrick Chevrolet               + 2.952s
26.  Jimmie Johnson      Hendrick Chevrolet               + 2.981s
27.  Jeff Gordon         Hendrick Chevrolet               + 3.085s
28.  David Ragan         Roush Fenway Ford               + 26.086s
29.  Jamie McMurray      Earnhardt Ganassi Chevrolet      + 4 laps
30.  Regan Smith         Furniture Row Chevrolet          + 8 laps
31.  AJ Allmendinger     Petty Ford                       + 9 laps
32.  Kevin Harvick       Childress Chevrolet              + 9 laps
33.  Kyle Busch          Gibbs Toyota                    + 13 laps
34.  Terry Labonte       FAS Lane Ford                   + 13 laps

Retirements:

     Bobby Labonte       JTG Daugherty Toyota             173 laps
     Kurt Busch          Penske Dodge                     173 laps
     Robby Gordon        Gordon Dodge                     173 laps
     Ryan Newman         Stewart Haas Chevrolet           172 laps
     Andy Lally          TRG Chevrolet                    162 laps
     Michael McDowell    HP Toyota                          6 laps
     Joe Nemechek        NEMCO Toyota                       4 laps
     JJ Yeley            Front Row Ford                     3 laps
     Kevin Conway        NEMCO Toyota                       2 laps