NASCAR Sprint Cup drivers say rule tweaks will not stop tandem racing at Talladega
| | |
| --- | --- |
| By Diego Mejia | Saturday, October 22nd 2011, 08:17 GMT |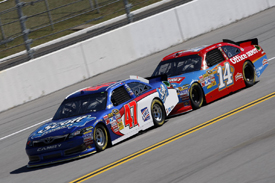 NASCAR Sprint Cup Series drivers do not expect Sunday's race at Talladega to be affected by new technical rules after testing the changes during Friday's practice sessions.
Hoping to limit the tandem style of drafting that has prevailed at Daytona and Talladega this year, NASCAR issued a new restrictor-plate for this weekend's race, with an increase of 1/64th of an inch in the diameter of the plate holes which gives around a seven to 10 horsepower boost.
Additionally a new calibration for the pop-off valve that controls maximum pressure in the radiator was also set in order to try to prevent drivers from pushing each other for as long as they have done in previous restrictor-plate races this year.
However during both practice sessions at Talladega on Friday teams continued to run in tandems, many running for a lot of consecutive laps in the same order without having to swap in order to keep water temperatures under control.
"I didn't see anything any different," said Tony Stewart, a former Talladega winner, following practice. "I think the temperature, the water pressure, is what you are still focusing on right now. We have a cooler day than what we had here in the spring, so it's pretty similar right now because of the temperatures."
Carl Edwards and his Roush Fenway team-mate Greg Biffle topped the charts in the first practice, setting the highest averages of the day while lapping at nearly 199mph. Although speeds were close to the 200mph barrier, officials did not announce any changes ahead of Saturday's qualifying.
"It wasn't much different except for we are all nervous about blowing water out of the radiator," said Chase leader Edwards after practice. "None of us really know and I didn't run mine until the valve popped off when I was pushing Greg. I think that is the big unknown right now.
"I think that will keep people from staying nose to tail for so long. I think you will see more switching and that is the only thing I can see from my seat. I can't even see it from my seat they just told me to not let the thing build too much water pressure or we would be in trouble."
Penske's Brad Keselowski, who won at Talladega in 2009, believes the only way NASCAR will be able to get rid of tandem racing is by dramatically altering the grip-to-drag ratio the cars currently have.
For this weekend officials forbade the use of grease in bumpers as teams used it while trying to make it easier for bumpers to rub without upsetting the car being pushed. Keselowski reckons the ruling will only increase the possibility of more incidents taking place.
"You can't change the inherent nature of the cars when the cars get out there, whereas there's a lot of grip and drag," said Keselowski. "Those are the things that you have to change if you want to break up tandem racing.
"You can take away the grease on the bumpers and that's not going to stop you from tandem drafting, it's just going to make the likelihood of wrecking go up. Until you break up the high amounts of grip and drag, until you get rid of that, this is just the style of racing that we're going to see."
In an attempt to make the race even more dynamic, Talladega Superspeedway has offered a US $100,000 bonus to the driver who takes the lead the most if more than 100 lead swaps take place during Sunday's race, the record being set at 88 lead changes during last April's event at the track.