Jimmie Johnson feeling less pressure than in previous Sprint Cup Chases
| | |
| --- | --- |
| By Diego Mejia | Friday, October 21st 2011, 20:43 GMT |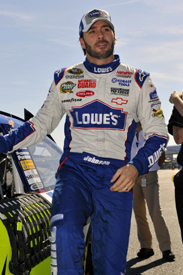 Jimmie Johnson is feeling less pressure than in previous years heading into Talladega's NASCAR Sprint Cup race, having fallen down the championship order after his crash at Charlotte last weekend.
The reigning champion enters the second half of the Chase with a larger deficit to the points leader than he has suffered since 2007, following a crash during the closing laps of the Charlotte race while he was running solidly inside the top 10.
Johnson remains positive that, despite his hopes of a sixth straight Cup title taking a hard hit, he can recover lost ground in the coming races.
Back in 2006 Johnson was able to charge back during the second half of the 10-race play-off to claim his first title after being in a similar position, scoring a win, three second places and a ninth-placed finish in the season finale to beat Matt Kenseth to the crown.
"We need points based on the way we finished up in Charlotte," said the Hendrick Motorsports driver. "We overcame a lot through the night in Charlotte with track position issues and were getting into a respectable finish there and had that huge impact off of Turn 2.
"It was a sore week, trying to get through the bumps and bruises at the end of the week. Things feel great now and we just got to go racing. There's still five races left in this Chase and a lot still can happen.
"I know that my team and myself are capable of [it] and we're going to go out there and fight for every point we can get."
Johnson claims for the first time in many years that he doesn't have to worry about protecting his position this late in the Chase, which puts the pressure on those ahead of him. For the past two years he has led the championship heading into the Chase event at Talladega.
"When you're coming to Talladega and you have to protect something it's tough and even when you go to the end of the year and you're going to Homestead, protecting the championship regardless of the racetrack," added Johnson.
"It just adds a lot of stress. And with the unknowns we have here [at Talladega], protecting makes for a long week and a long race when you're in the car.
"I don't want to enter this race hoping for anything from a big crash standpoint to happen and the guys all ahead of me [in the Chase] being caught up in that. I just need to go out and race. Stuff does happen on the track but if we go out and run well and get five points on some guys it's a step in the right direction.
"I don't have anything to protect, so Talladega isn't as dangerous this year, or as scary as it's been in year's past."
Johnson is the most recent winner at Talladega, having claimed his first win of the season at the track in April while pushed by his drafting partner Dale Earnhardt Jr.