Meeke questions wisdom of running final stage after dust issues
| | |
| --- | --- |
| By David Evans | Friday, October 21st 2011, 12:06 GMT |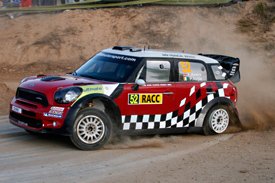 Mini driver Kris Meeke has questioned the running of the final stage on today's opening leg of the Catalunya Rally due to the excessive dust on the Spanish gravel.
There has been growing concern through the morning at the dust problem, with the drivers complaining bitterly about going off the road while being blinded by the dust.
Having already increased the usual two-minute gap to three minutes, the organisers have now added another minute to try and ensure a safe passage through the stages.
Despite that extra time, this evening's dark stage is still expected to be hit by dust - which is a major concern to the Northern Irishman.
Meeke said: "The four-minute gap is what Mini asked for yesterday, but Ford said it wasn't a problem... I am honestly not so sure about running the [dark] stage tonight.
"When we have the spotlights on the car, the dust just reflects off it and you only need a small amount of dust before you're completely blinded by it. Personally, I'm not sure that stage should run."
Third-placed driver, Citroen's Sebastien Ogier, was pleased with the organiser's decision, saying: "It should be okay now with the extra time. We will have to hope the dust doesn't come too quickly in the night time stage.
"I can tell you, this morning was so tough, though - it was impossible to see the road in some places and I was having to brake in the straights."
M-Sport Stobart driver Matthew Wilson said the re-run Les Garrigues test could decide the rally.
"We know there's more of a chance of dust early in the morning and late in the evening," said the Cumbrian, "so that final stage tonight will be interesting.
"I think it will decide the rally – you only have to look at the gaps on the first stage to see how much it can affect things. When you get down on the valley floor, the dust can come and go really quickly, and if it comes, you can lose an awful lot of time."