| | |
| --- | --- |
| Top MotoGP riders say Moto2 star Marc Marquez right to wait before graduating | |
| | |
| --- | --- |
| | Friday, October 21st 2011, 10:11 GMT |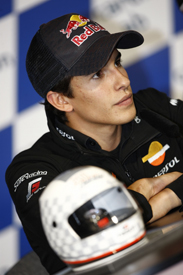 Leading MotoGP riders say rising star Marc Marquez is right to stay in Moto2 for 2012 even if he wins the title at the first attempt.
There had been speculation that Marquez could be in for a fast-track graduation to MotoGP on a Honda next season after just one year in Moto2, but the 18-year-old Spaniard announced yesterday that he would remain in the intermediate class for one more year.
World champion Casey Stoner, who took an unusual route to MotoGP with two 250cc seasons sandwiching two years of 125cc, said Marquez should do what he felt most comfortable with.
"Each rider's opinion is to their own," said Stoner. "On paper, I did two seasons of 250cc, but my first season of grand prix racing was on the 250cc so I didn't really experience a lot there. It was a difficult season so then I went for two seasons of 125cc, one season of 250cc and then immediately into MotoGP.
"A lot of people say it's a mistake, but I don't believe so. If you're achieving all you can achieve in one class, more or less, and you want to stay there just to win the championship, there's no reason why not. This is their decision and I'm sure he will be joining us the year after."
Last year's 125cc champion Marquez goes into the final two Moto2 rounds of 2011 trailing championship leader Stefan Bradl by just three points. Seven-time MotoGP title-winner Valentino Rossi reckons committing to MotoGP for 2012 now would put Marquez under too much pressure in the Moto2 title fight.
"I think personally that he's done the right choice," said Rossi.
"If I was Marc, I'd do the same - first because he's very young and has a lot of time. And second, because it's a way to take some pressure out of this year, because if he wins the championship he'd be happy but if he loses, he has another chance to become Moto2 world champion next year.
"Also I think it's a positive for us because it's one less Honda..."
Marquez has received some criticism from his Moto2 rivals this year and was penalised in Australia for a heavy crash with Ratthapark Willairot after the chequered flag in practice.
Honda MotoGP rider Andrea Dovizioso said a second year of Moto2 would give Marquez a chance to round off his rough edges before joining the premier class.
"He's done just one year in Moto2 and MotoGP is hard," said Dovizioso. "There is a lot of talent, and the bike and the tyres are really difficult.
"I think he has a really good talent, but he has to arrive in MotoGP a little bit calmer because many riders can start well but after a few crashes it goes downhill. He will be one of the strong riders in the future, but I think he has to be careful about his future."
Tech 3 Yamaha's Colin Edwards joked that he was just pleased he could still enjoy watching Marquez in Moto2.
"For me it's the best news I've heard all week, because I enjoy watching him race before I go out," said Edwards. "If he was in the same race as me, I might not see him...
"Watching him before we go out is like a Rocky movie or something, it gets you pumped up watching him come through the pack or whatever he does. He's definitely going to be a threat when he comes to MotoGP."