Leimer completes impressive post-season form by topping final test at Barcelona
| | |
| --- | --- |
| | Thursday, October 20th 2011, 15:53 GMT |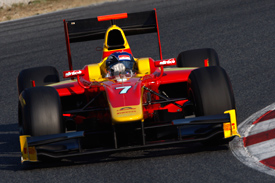 Fabio Leimer rounded out his impressive GP2 post-season form by topping the final day of testing at Barcelona.
Having also set the pace on both days of testing at Jerez - again with the Racing Engineering squad - Leimer has therefore failed to top only one of the four days of post-season testing.
The 22-year-old, a racewinner with the Rapax squad this year, set the early running before the session was halted following Kevin Magnussen's foray into the gravel at Turn 5.
The pace quickened when the session resumed, but Leimer was once again on top and his 1m29.324s proved too good for the rest of the field - and also the perfect preparation ahead of his test with the Sauber F1 team at Abu Dhabi on 15-17 November.
Sam Bird, on duty with Trident Racing, finished more than 0.2s down the road in second, ahead of Esteban Gutierrez (Lotus ART) and Magnussen (Carlin), who recovered from his trip into the gravel to set the fourth fastest time.
Fifth and sixth went to Scuderia Coloni's Stefano Coletti and Kevin Ceccon, who finished within two hundredths of a second of each other.
As was the case yesterday the afternoon session proved markedly slower. Coletti, a double racewinner for Trident in 2011, was fastest but his time was almost one second off his morning benchmark and even further off Leimer's overall best.
Alexander Rossi, eighth in the morning, was second fastest in the afternoon for Caterham team AirAsia, ahead of Nathanael Berthon (Racing Engineering) and Brendon Hartley (Ocean Racing).
Morning times:
Pos  Driver                    Team                       Time     Laps
 1.  Fabio Leimer              Racing Engineering         1:29.324   30
 2.  Sam Bird                  Trident Racing             1:29.549   20
 3.  Esteban Gutierrez         Lotus ART                  1:29.588   34
 4.  Kevin Magnussen           Carlin                     1:29.697   27
 5.  Stefano Coletti           Scuderia Coloni            1:29.736   25
 6.  Kevin Ceccon              Scuderia Coloni            1:29.753   24
 7.  Antonio Felix Da Costa    Ocean Racing Technology    1:29.758   27
 8.  Alexander Rossi           Caterham Team AirAsia      1:29.808   20
 9.  Rio Haryanto              Dams                       1:29.827   36
10.  Julian Leal               Rapax                      1:29.851   29
11.  Jolyon Palmer             Carlin                     1:29.916   36
12.  Nathanael Berthon         Racing Engineering         1:29.931   18
13.  Josef Kral                Barwa Addax Team           1:30.024   33
14.  Stephane Richelmi         Trident Racing             1:30.025   38
15.  Simon Trummer             Arden International        1:30.219   30
16.  Brendon Hartley           Ocean Racing Technology    1:30.268   31
17.  Nigel Melker              iSport International       1:30.276   24
18.  James Calado              Lotus ART                  1:30.308   28
19.  Craig Dolby               Arden International        1:30.374   21
20.  Adrian Quaife-Hobbs       Dams                       1:30.446   36
21.  Jakes Rosenzweig          Barwa Addax Team           1:30.603   34
22.  Albert Costa              Super Nova Racing          1:30.604   35
23.  Rodolfo Gonzalez          Caterham Team AirAsia      1:30.944   35
24.  Fabio Onidi               Rapax                      1:30.998   30
25.  Giacomo Ricci             Super Nova Racing          1:31.031   26
26.  Kuba Giermaziak           iSport International       1:31.043   24

Afternoon times:
Pos  Driver                    Team                       Time     Laps
 1.  Stefano Coletti           Scuderia Coloni            1:30.607   21
 2.  Alexander Rossi           Caterham Team AirAsia      1:30.749   53
 3.  Nathanael Berthon         Racing Engineering         1:31.023   18
 4.  Brendon Hartley           Ocean Racing Technology    1:31.075   28
 5.  Jake Rosenzweig           Barwa Addax Team           1:31.088   34
 6.  Antonio Felix Da Costa    Ocean Racing Technology    1:31.093   37
 7.  Fabio Onidi               Rapax                      1:31.116   36
 8.  Nigel Melker              iSport International       1:31.131   37
 9.  Julian Leal               Rapax                      1:31.221   20
10.  Fabio Leimer              Racing Engineering         1:31.274   35
11.  Giacomo Ricci             Super Nova Racing          1:31.281   21
12.  Josef Kral                Barwa Addax Team           1:31.411   32
13.  Kevin Magnussen           Carlin                     1:31.562   14
14.  Albert Costa              Super Nova Racing          1:31.650   21
15.  Kevin Ceccon              Scuderia Coloni            1:31.697   33
16.  Adrian Quaife-Hobbs       Dams                       1:31.698   34
17.  Kuba Giermaziak           iSport International       1:31.933   34
18.  Jolyon Palmer             Carlin                     1:31.984   36
19.  Craig Dolby               Arden International        1:32.282   30
20.  Rodolfo Gonzalez          Caterham Team AirAsia      1:32.282   32
21.  Sam Bird                  Trident Racing             1:32.324   32
22.  Esteban Gutierrez         Lotus ART                  1:33.270   36
23.  Rio Haryanto              Dams                       1:33.485   42
24.  James Calado              Lotus ART                  1:33.655   45
25.  Stephane Richelmi         Trident Racing             1:34.242   35
26.  Simon Trummer             Arden International        1:35.083   46