Trevor Bayne will 'push' Carl Edwards at Talladega Sprint Cup race
| | |
| --- | --- |
| By Glenn Freeman | Thursday, October 20th 2011, 10:43 GMT |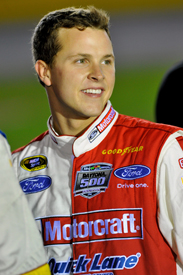 Daytona 500 winner Trevor Bayne has revealed that he plans to push NASCAR Sprint Cup points leader Carl Edwards at Talladega this weekend to help his fellow Ford driver's title hopes
The 20-year-old American pulled off the shock of the year by winning the season-opening Daytona 500 as a rookie in February. But ahead of the final restrictor plate race of the year, the Wood Brothers driver has agreed with Edwards that the two will pair up to maximise the chance of a good result for the championship leader.
"I've been talking to Carl, he really trusts us," said Bayne, who is a development driver for Roush Fenway Racing. "Being the points leader and trusting me to push him, that means a lot to me. I'm going to help him as much as I can.
"We have a good relationship on and off the track. I think he just trusts me that I'm not going to make any boneheaded moves, and hopefully I don't."
Bayne added that the two have already devised a plan to run at the back for most of the race, before trying to push Edwards through the field in the closing stages.
"We understand our plan – I think we're going to work together and ride in the back all day," he said. "We'll be safe at first, then be going to the front at the end.
"I take it as a compliment that Carl is doing this with the points lead. I don't want to jinx it, but hopefully we'll take it easy then be able to go at the end really hard."