Neal wins as Plato hits trouble in opening Silverstone race
| | |
| --- | --- |
| By Kevin Turner | Sunday, October 16th 2011, 11:32 GMT |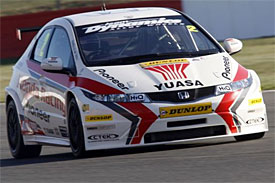 Matt Neal has moved a step closer to the 2011 British Touring Car Championship with victory in race one at Silverstone today as title rival Jason Plato was hobbled by a puncture.
Neal's Honda Civic led from pole as Liam Griffin and Rob Austin touched, causing Austin's Audi to spin across the track and hit Ollie Jackson's Triple Eight Vauxhall Vectra. Tony Gilham's new turbocharged Geoff Steel BMW was also involved and, with cars littering the track, the safety car was scrambled.
Neal and the chasing Mat Jackson (Motorbase Ford Focus) made good restarts, pulling a small gap over the second Honda of Gordon Shedden.
Shedden closed on the battling lead duo and shadowed them as Jackson probed for a way by Neal. The Ford could find no chink in Neal's armour and Jackson was denied a well-deserved podium when he suffered a right-front puncture with less than three laps to go.
That not only handed Honda a one-two, but also meant James Nash secured the Independents crown in third overall. The Triple Eight driver had run fourth for much of the race, under pressure from Tom Chilton until the Arena Ford driver was handed a drive-through penalty for not respecting the track limits.
Plato had been in the battle behind and was under pressure from the Arena cars of Andy Neate and Tom Onslow-Cole when he slowed with a left-front puncture before half-distance.
Onslow-Cole then overtook his team-mate to secure a fine fourth from 11th on the grid.
Alex MacDowall was the top normally aspirated runner in fifth, just ahead of Dave Newsham (Special Tuning Racing SEAT Leon) and Andrew Jordan's Eurotech Vectra. Despite clashing, the duo came through well from 13th and 12th respectively on the grid.
Plato's non-score means that he is now 22 points behind leader Matt Neal with only 34 left on offer. Shedden is the only other driver in with a chance, 10 points behind Neal.
Pos  Driver                   Car               Time
 1.  Matt Neal                Honda           26m36.253s
 2.  Gordon Shedden           Honda             +  0.206
 3.  James Nash               Vauxhall          +  3.818
 4.  Tom Onslow-Cole          Ford              +  7.078
 5.  Alex MacDowall           Chevrolet         +  10.282
 6.  Dave Newsham             SEAT              +  11.335
 7.  Andrew Jordan            Vauxhall          +  13.525
 8.  Rob Collard              BMW               +  16.333
 9.  Andy Neate               Ford              +  16.581
10.  Frank Wrathall           Toyota            +  16.601
11.  Daniel Welch             Proton            +  21.391
12.  Tom Chilton              Ford              +  23.151
13.  Nick Foster              BMW               +  24.045
14.  John George              Chevrolet         +  33.407
15.  Liam Griffin             Ford              +  33.564
16.  Ollie Jackson            Vauxhall          +  33.772
17.  Jeff Smith               Vauxhall          +  50.020
18.  Lea Wood                 Honda             +  51.063
19.  Tony Hughes              Toyota            +  53.943
20.  Mat Jackson              Ford              +  54.500
21.  Chris James              Chevrolet         +  1 Lap
22.  Chris Swanwick           Audi              +  2 Laps

Retirements:

    Driver                   Car                    Laps
    Tom Boardman             SEAT                    20
    Martin Byford            Volkswagen              20
    Jason Plato              Chevrolet               19
    Paul O'Neill             Chevrolet               16
    James Thompson           Ford                    2
    Rob Austin               Audi                    0
    Tony Gilham              BMW                     0