Di Resta rues conservative tyre strategy in Korea
| | |
| --- | --- |
| By Pablo Elizalde | Sunday, October 16th 2011, 09:30 GMT |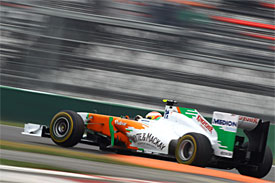 Paul di Resta said his Force India team should have opted for a more aggressive tyre strategy for the Korean Grand Prix, although the Scot believes it would have been unlikely to get a better result anyway.
Di Resta finished in tenth position, having started the race with the soft tyres, something he reckons it was a mistake in the end.
Nonetheless, the Force India driver was happy to get a point, admitting the Toro Rossos were too strong today.
"It's good to come away with a point, but ultimately we didn't have the performance to match Toro Rosso today," he said. "It looked like we might be able to hold off Buemi in the final laps to stay ninth, but we came up six or seven laps too short with the tyres and I couldn't hold him back.
"In terms of tyres, we probably should have been a bit more aggressive with the strategy and used my new super softs at the start of the race, rather than the used set, but I'm not sure it would have changed where we finished. Still, every point counts come the end of the year and we've managed to gain a point on Sauber, which is important."
Team-mate Adrian Sutil also conceded the Toro Rossos were too quick today, after finishing in 11th position.
"It was not the easiest race today and I'm disappointed that I missed out on points," Sutil said. "The start of the race was okay, but Schumacher and Alguersuari came by me quite early on.
"I think our strategy was good and I made my first stop when the safety car came out, but our main competitor today was Toro Rosso and we just didn't have the pace to beat them.
"It's clear that we have to fight really hard in the final three races because the race pace of our close competitors is strong and we will need to score points to hold on to our sixth position."