Roush says Jimmie Johnson's recovery unlikely after Charlotte crash
| | |
| --- | --- |
| By Diego Mejia | Sunday, October 16th 2011, 08:58 GMT |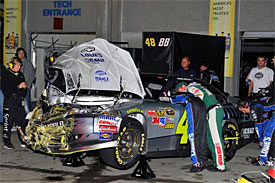 Jack Roush believes Jimmie Johnson will need his title rivals to hit trouble in order to allow him to recover in the championship Chase, having crashed out of Saturday's race at Charlotte.
The NASCAR team owner celebrated the fifth win of the season for his outfit with Matt Kenseth's victory in the fifth round of the Chase, while his team-mate Carl Edwards continues to lead the play-off standings, the latest in the season he's ever been in the championship lead.
Johnson had a lackluster start to his title campaign following a 25th place finish in the second round of the Chase at Loudon but he rebounded after that to take second place at Dover and a win at Kansas last week.
However, following his 34th place at Charlotte he now lags 10th and 35 points behind in the standing, a gap that Roush believes Johnson will not be able to overcome without his main rivals hitting some kind of trouble in the coming five races.
"For anybody that has a wreck or breaks an engine or has a cut tyre at the wrong time, you can't expect to get a mulligan," Roush said. "You'll be very lucky if somebody will give you a chance to make up a whole race.
"I thought that Jimmie Johnson would be a factor in it and he's definitely going to have to stand in line and wait or the other folks in the top five to have problems for him to get back in it.
"He won't race his way back in it. He won't finish high enough above the top four or five cars to beat them on the racetrack. He'll have to wait for them to have trouble, I think."
Roush says the fight at the sharp end of the Cup field is so competitive that the smallest mistake makes a big difference in a team's ability to contend for the championship.
Kenseth's third win of the season allowed him to jump up to third place in the standings, which makes Roush confident he will be another card in his outfit's hope of braking Johnson's run of consecutive titles.
"What happened to Jimmie Johnson is a sobering lesson for everybody," said Roush. "You can't afford to break apart, you can't afford to put a wheel long, or a loose lug-nut on pit road with an extra pass at the wrong time down to serve a penalty could be a championship-losing event.
"There's just a lot that these guys have to do that has to be really done correctly. And [crew chief] Jimmy [Fennig] and Matt got it done tonight and I'm sure they are going to be a factor in this championship coming down the stretch."
Roush Fenway drivers led a combined 116 laps out of the 334 of Saturday's race at Charlotte as the Ford squad had arguably its strongest outing of this year's Chase thus far.