Webber disappointed not to get second place in the Korean Grand Prix
| | |
| --- | --- |
| By Jonathan Noble and Pablo Elizalde | Sunday, October 16th 2011, 08:33 GMT |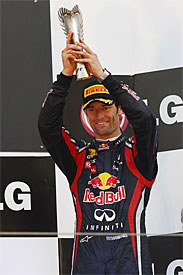 Mark Webber admitted he was disappointed not to get second place in the Korean Grand Prix on Sunday.
The Australian put on a solid performance and was involved in a long battle with McLaren's Lewis Hamilton for the runner-up spot.
In the end Webber lost the battle and had to settle for third position.
The Red Bull driver was delighted to see his team clinch the constructors' title again, but admitted he wanted second place in the race.
"It was the team's day today," said Webber. "The constructors' title is a massive thing today. I'm disappointed not to get second today. We did a good job in the first stop and then got ourselves in a good position.
"The safety car got everyone back together and in the second stop we did the worst thing as we didn't stop before or after, we stopped at the same time.
"I had a good battle on the first lap and that was how it was today. Looking forward to the next one."
Webber, who is yet to score a win this year, said he is aiming for "perfect" weekends in the remaining grands prix of the year.
"I think pulling off a clean perfect weekend," he said of his goals for the remaining races. "There are lot of positives for me today. We know how sensitive it is around, you need everything right to win.
"So a lot of positives today for me but the initial reaction is a bit of disappointment. I am sure I will be happy tomorrow when I wake up and look forward to the next event."