Vettel celebrates 'fantastic' weekend after Korean Grand Prix win
| | |
| --- | --- |
| By Jonathan Noble and Pablo Elizalde | Sunday, October 16th 2011, 08:13 GMT |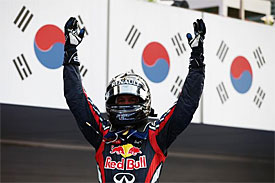 Sebastian Vettel celebrated what he labelled as a fantastic victory at the Korean Grand Prix, as Red Bull clinched the constructors' title for the second year in a row.
Although the team failed to start from pole position for the first time this year, Vettel took the lead early on and never looked back.
The German, who clinched his second title last weekend in Japan, took his 10th win of the season, finishing over 12 seconds ahead of McLaren's Lewis Hamilton.
Vettel was delighted for his team.
"I think it is good to see that the whole team keeps on pushing," said Vettel. "In terms of preparation it was not ideal because most of us were tipsy after Sunday night but we deserved that.
"But to come here and have a tough Friday and a tough Saturday morning, and to come back in qualifying and in the race was fantastic.
"It was so fun to drive. The car was getting quicker and quicker. It is fantastic, after last weekend the drivers' championship, this weekend the Constructors' Championship for the team. It is fantastic.
"I want to say a lot of thanks to Renault. They have been pushing so hard. The package is fantastic, so thank you very much. I am very, very happy today."
The double world champion admitted he was surprised he managed to stop just twice during the race, despite fears about tyre degradation.
"In the end we ended up stopping way less than we thought," he said. "We expected a bit more degradation, and eventually it came, but we delayed the first stop, and in the end you realise you don't have to stop three times.
"It was a very good race from that side. The tyres and tyre management were not easy, especially towards the end of the stint. I was able to gain on Lewis. I always wanted to stay clear of DRS with the headwind of Turn 2 to Turn 3.
"I was pushing hard. The tyres did not help in the second stint but they came back. It was crucial to control race from there."