Mark Webber backs plan to have one move rule written into 2012 F1 regulations
| | |
| --- | --- |
| By Jonathan Noble | Sunday, October 16th 2011, 03:24 GMT |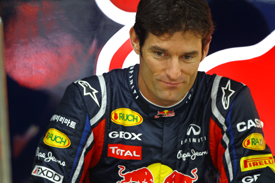 Mark Webber has backed the plan to have Formula 1's one-move rule put into next year's regulations - and now wants to see it expanded into all major racing championships.
As AUTOSPORT revealed on Saturday, the FIA;s Sporting Working Group agreed this weekend for a proper definition of the one move rule to be ratified – which stewards will use from this weekend's event and is set to be written into the 2012 Sporting Regulations.
Webber believes the idea will be a step forward for F1, and reckons that it could be good to eradicate dangerous incidents in junior categories too.
When asked by AUTOSPORT if he believed the one move rule would be a benefit for F1, Webber said: "Yeah. It will. But it needs to be very consistently interpreted from the stewards' perspective as well, because not all stewards have raced in F1 cars.
"A lot of stewards have, but that is very important if they are going to put things in black and white and we stick to them.
"The one move rule is certainly, I believe, a step forward, particularly with the DRS and things like that," he added:
"Ultimately it would be good if we could see it drop to the junior categories. We see a lot of big accidents in the junior categories. The guys are super, super, super aggressive driving in the lower formulas, and standards-wise that is not acceptable in F1, because if you do this at Monza with 350 kph...
"You have to race hard and fair. I love racing hard and fair as you know, but only when you give it a little bit of room when you need to at certain points, you have to know when the fight is over. It's mainly in the braking zone.
"That is where there will be a little bit of ambiguity in the future with the braking, but straight lines are quite easy. Once you get into brakes that will be their challenge."
Nico Rosberg also believed that a clarification of what constitutes one move would be of benefit to the stewards, as he thinks there have been questionable incidents in the last few races.
"From my point of view there have been several incidents in the last few races where drivers haven't had penalties and they should have had," said the Mercedes driver. "I think it would be a very good thing to clarify that again, even more precisely, because it is a dangerous area.
"If drivers are doing something not leaving space for the guy outside, it could be a very dangerous incident. I think it is important and that should solve things, so it should be better for next year."
Michael Schumacher was, however, not so convinced about the benefits of the one move rule being put into the regulations.
"Honestly, I think it is clear what you can and cannot do," he said. "It is just a point of view that the stewards may take, and we don't always have the same stewards.
"It is not always exactly the same incident or situation, so there is always room for interpretation. I don't think it is always possible to see things absolutely black and white."